Enjoy National S'Mores Day with an Easy Treat
Do you remember your first S'mores? I know that one of my first was probably at Girl Scouts camp. It's funny how certain things stick with you, but others completely slip your mind. The most memorable thing to me about Girl Scouts is the songs.
S'mores and Girl Scouts
Were you in Girl Scouts or Brownies? Did you learn "Grandma's in the Cellar"? How about "Old Lady Leary" or "Chopped Ham"? Singing songs around the campfire was one of the best parts of Girl Scouts as was eating S'mores!
The origin of S'mores is actually unclear.  The first S'Mores recipe is found in the "Tramping and Trailing with the Girl Scouts" publication and credited to Loretta Scott Crew. Of course! Where other than the Girl Scouts would you have had such a yummy chocolatey, gooey treat? We girls love our chocolate!
Survey says…
The camping experts at Encore/Thousand Trails decided to conduct a survey to find out how their guests like to eat S'mores.
With more than 200 RV Resorts & Campgrounds across North America, Encore/Thousand Trails surveyed nearly 1300 campers about their favorite version of the camping dessert, and this is what they found:
Graham Cracker
The clear cut winner for the type of graham cracker people prefer for S'mores, the plain graham cracker got 67% of the vote. Cinnamon graham crackers followed with 22%. Chocolate graham crackers got 6% and Sugar Cones got 5% of the vote.
Marshmallow
The type of marshmallow was all about how it is cooked. 65% of campers surveyed prefer the marshmallows in their S'mores to be cooked Golden brown, gooey on the inside. In a distant second, Fully charred on the outside, gooey on the inside took 17% of the vote. Lightly charred on the outside, firm on the inside with 10% and Lightly toasted, firm on the inside with 7% finished off the how long to roast your marshmallow portion of the survey.
Chocolate
Milk Chocolate took the top prize it the chocolate category with 54% of the vote, followed by Dark Chocolate at 28% .  Third was a Peanut Butter Cup at 15% and the not so popular Mint Chocolate got 3%.
Easy Baked S'Mores
No matter what your favorite graham cracker or chocolate, you can make this easy recipe with any of the above variations! You need 9 graham crackers. Break them into squares and put 9 squares in an 8×8 pan. Throw some mini marshmallows (or big ones cut in half) on the graham crackers. Chop up some Hershey Bars (we used 4 full-sized) and toss that onto the marshmallows.
Put the remaining graham cracker squares over that and put more marshmallows on top. It looks better if you cut large ones in half for the top, but, really, who cares what it looks like if it tastes good?!
Bake this for 10 minutes in a preheated 350 ° oven. It will come out nice and gooey and chocolatey and delicious! It's best to enjoy this warm!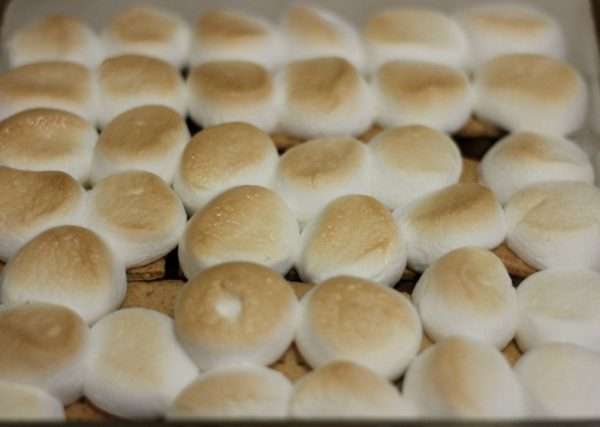 No matter how you enjoy your S'mores, be sure to celebrate today with some ooey, gooey goodness!