This post is sponsored by Therabis™ and the BlogPaws® Pet Influencer Network™. I am being compensated to help share information about Therabis – Hemp wellness products to help your dog with itching, anxiety and joint mobility. Christy's Cozy Corners only shares information we feel is relevant to our readers. Therabis is not responsible for the content of this article: Therabis Calm and Quiet for Dogs Can Help Reduce Separation Anxiety.
A new puppy
Near the end of June, my kids and I experienced a great loss. Our dog Toby died unexpectedly. It was one of the worst days ever. If you've ever lost a pet, you know what I mean. They hold a special place in your heart, and when they die, it leaves a hole. Though a new pet doesn't replace the pet you lost, they can be a great comfort to you.
Meet Duke. Since we don't know exactly how old he is, we've made his birthday March 1st. The dog warden thought he was between 3 and 4 months old, so we guessed. That makes him a little over 5 months old now. He is all puppy, and we love him! He's such a sweet dog. He also hates being left alone in his crate. Separation anxiety is rough! Thankfully he was not at the dog warden very long before we adopted him, but who knows what his life was like before someone dropped him off there.
I feel so badly when we have to leave him to go someplace, but it is unavoidable sometimes. Therabis Calm and Quiet treats come in handy for those times. He still does not like it when we leave, but he doesn't bark the entire time we are gone when he has these treats before we leave.
Calm and Quiet for Separation Anxiety and More
Do you have a dog with separation anxiety? Does your dog hate storms or car rides? Do large crowds make him nervous? It's hard to enjoy life with your dog if she's scared! Grab the leash and enjoy life with Therabis for dogs. Therabis Calm and Quiet Treats help dogs maintain a calm energy in stressful situations.
Dr. Stephen Katz, a veterinary expert, developed Therabis over the past decade. The Therabis formula combines natural whole-plant hemp oil with L-Theanine (from green tea) to keep your dog at her social and emotional best for a happier, healthier pet. You might see hemp and automatically think, "Oh, my dog is going to get high." Well, nope,they're not! Though this is a cannabinoid, it's not the same plant as marijuana. That is why people who eat hemp seeds on their cereal or in smoothies don't get "high." Your dog won't either. Hemp oil is not psychoactive.
He was too fast for me to get him getting it out of my hand, but here he is right after!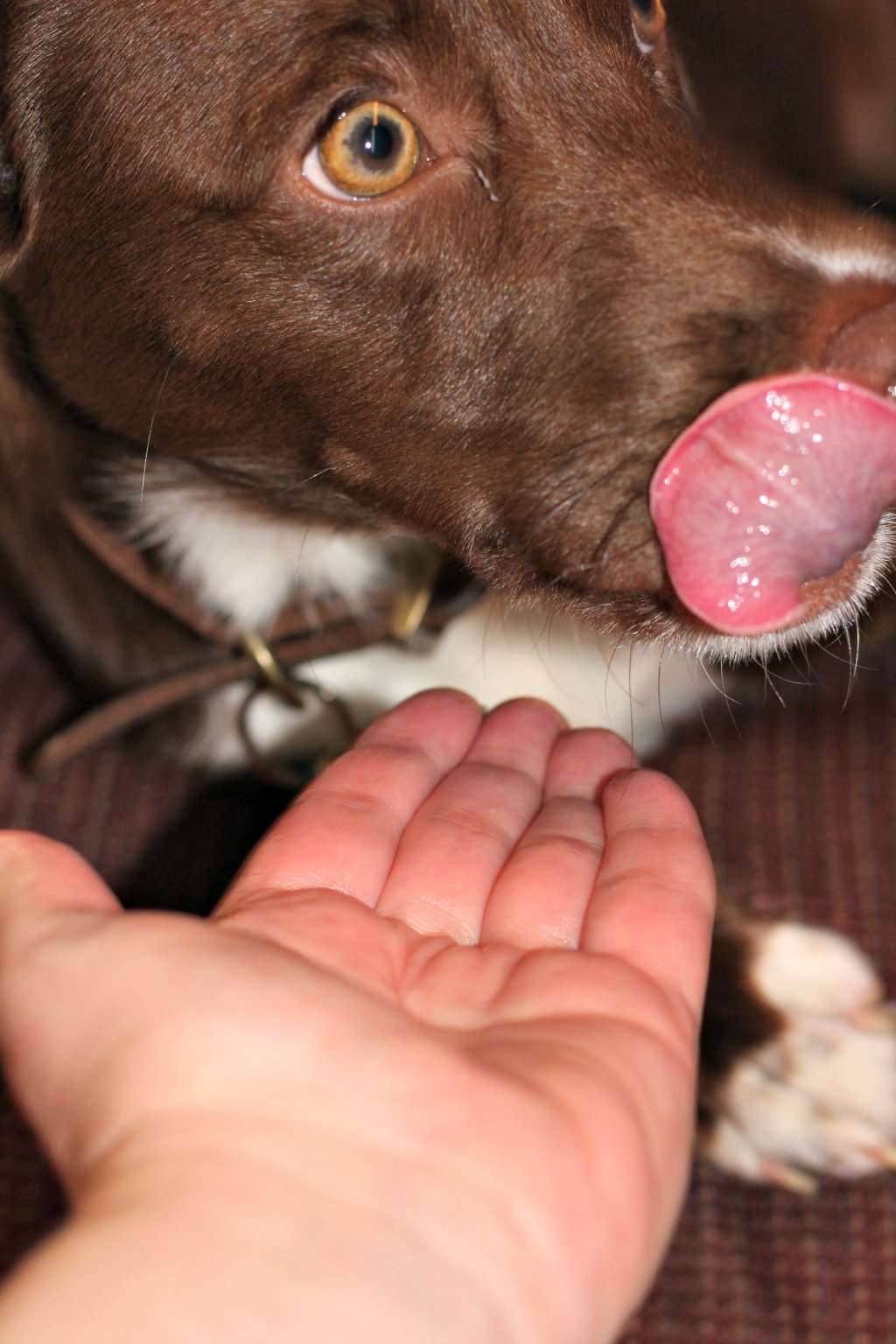 The Calm and Quiet treats, which we've tried with Duke, are fast-acting. They help keep dogs at their emotional best during stressful situations. Duke gets stressed out even when we only leave for a short time. His separation anxiety really makes me wonder if he was left alone for long periods of time in his first 3 months of life. He never has to worry about that again! And thanks to Therabis Calm and Quiet, he is less anxious.
Therabis Formulas
Therabis comes in three formulas to help your dog with his health needs safely, naturally, and effectively: Calm and Quiet, Up And Moving and Stop The Itch. Find out more about these formulas, and check out the learn more page for any questions you have about dogs and CBD oil. I definitely recommend you try the Calm and Quiet Treats if you have an anxious dog!
This is a sponsored conversation written by me on behalf of Therabis™. The opinions and text are all mine.