I have been fortunate enough to travel to many beautiful and fun places in the United States; places like Walt Disney World, Universal Studios, Niagara Falls, New York City, and Virginia Beach to name a few. But there are so many more I would love to visit. Some of those places include the National Parks.
Growing up in the USA
My daughter and I are often jealous of people who live in Europe. We say things like, "If we lived in England, we could be in France in a shorter amount of time than it takes us to get to Florida." Country hopping is much easier if your countries are that close! We've got to go state hopping instead.
I've lived in Ohio my entire life, so growing up, my vacations were limited to drivable distances. That means the furthest I went on a vacation with my family was probably 10 hours away. That worked out for the best, since I know I thought a 30 minute drive was torture back then. As an adult, I've been to California twice and Florida three times. I know those are on many people's bucket lists, and they've probably been to places that are on mine.
My United States National Parks Top 5 Bucket List
I'm sure you've all got travel bucket lists. I have so many places I'd love to see! This is a specific bucket list: National Parks. And since there are so many, I'm sticking to 5 for this post!
Mount Rushmore National Memorial
When I was a little girl, my grandparents took a road trip out west and got to see Mount Rushmore and many other amazing sights. I loved looking at Grandma's photo album and dreaming of seeing the places she got to see. The sheer magnitude of seeing this in person has got to be awe-inspiring. Though this isn't technically a National Park, it is part of the National Parks Service, so I count it.
While my grandparents were in South Dakota, they also went to Badlands National Park which is why it is on my list too.
Badlands National Park
It's funny because I'm really not an outdoorsy person, but hiking in the Badlands just seems like something I have to do. Ohio has nothing even remotely like the Badlands. One of my memories of Grandma and Grandpa's trip is the rocks and fossils they brought back with them. Since it was so long ago, I'm not sure if they bought them or if it was before the days of "don't take anything from the park." Regardless, thinking of those fossils and rocks brings me fond memories of their trip.
Grand Canyon National Park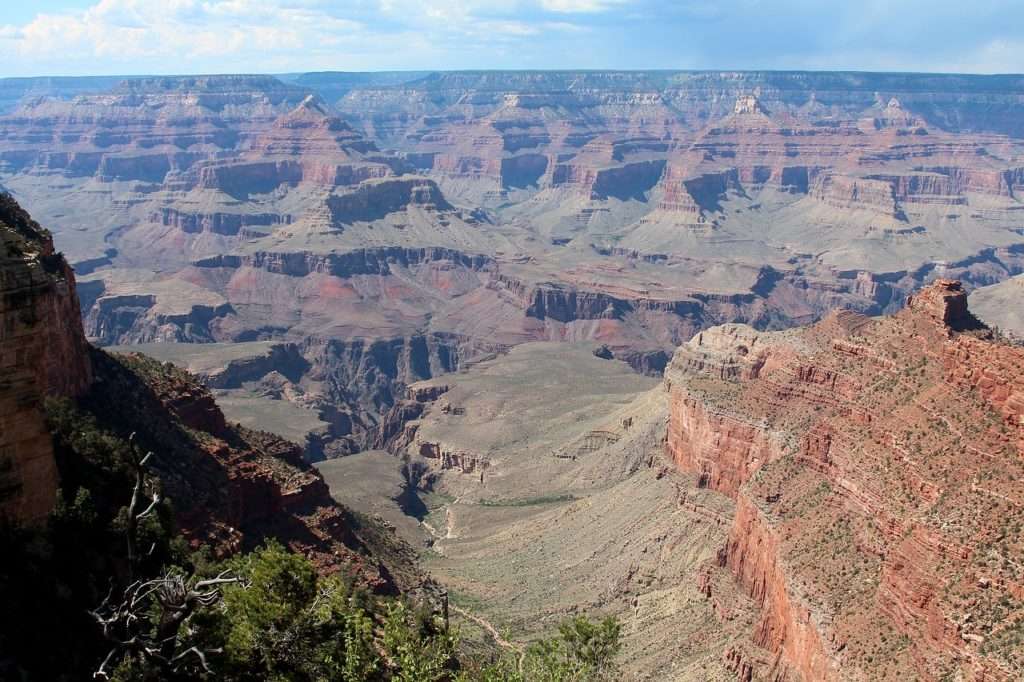 I have wanted to go to the Grand Canyon ever since I saw The Brady Bunch go there, and that is a long time. Not only does the Grand Canyon offer beautiful, breathtaking views, there is also so much to do. I would love to go on a bus tour during my Grand Canyon trip so I could hear the history as well as see the sights. I'm sure it would be a lot cooler than hiking and a lot more comfortable than riding a mule…though I'm sure people love doing those things too.
Yellowstone National Park
There are so many things that make Yellowstone National Park a part of my bucket list. The geysers and the hot springs alone would be worth the trip. Who wouldn't love to see Old Faithful and Mammoth Hot Springs. Plus it's another place my grandparents visited on their trip out west, so it goes on my bucket list!
Grand Teton National Park
Grand Teton National Park was a stop on my grandparents' trip too. I think it was one of my grandma's favorite stops because I remember her talking about it. I've read a couple of books that take place in the Tetons as well, and they make it sound like a beautiful place to visit. I know my daughter would love the horses, but I'd stick to viewing the wildlife from the car.
Have you visited any of these National Parks? Which has been your favorite and why? I'd love to hear about your trips!