I attended the world premiere free as part of a Disney Marvel Event. All opinions are my own. 
Yes, that is me on the red carpet! Touching Thor's arm. To quote Agent Maria Hill from Agents of S.H.I.E.L.D. "Well, you haven't been near his arms." I have now! Let me tell you, it was ah-ma-zing! I know, I know, I gotta work on my posing skills…next time. I was SO excited that it's amazing I'm even standing at all in this picture! Let's rewind a bit…
Getting ready for the big event
Next to my wedding, I'm pretty sure this was THE event I wanted to look really good for because I knew those movie stars were going to be looking at me all night…okay, maybe not…but still! I was walking on the red carpet!!! I had no idea what I wanted to wear, but I found this totally cute dress on Amazon for less than $40! No reporters came up to me to ask who I was wearing, but some random girl did ask me about it. And it seemed like everyone thought it was cute, so I guess I picked the right one…except for the having to wear shapewear (let's just not even go there).
Arriving at the El Capitan Theatre
I stepped onto the sidewalk and lined up for entrance into the red carpet area. Marshall, our completely awesome EVERYTHING for this event, gave me my lanyard which meant I was officially allowed to be there! From there, everything is still a dream! It went way too quickly! I did get a picture with Loki on the way in!
And thanks to Heidi at The Bragging Mommy, I have this picture of the cute toys to share with you!
And Christa at The Fairytale Traveler was kind enough to provide some pictures of Thor's Roadworn Costume.
Stars on the red carpet
When I stepped into the area where I could see the stars, I was in dreamland!! Right away, I looked over to see who was being photographed, and there was James Gunn and his wife! Then I turned….there was Chris Hemsworth across the carpet being interviewed.
I actually got his face in the picture above, but the one below, from Getty Images, is my favorite of him and his wife. It's so sweet!
And though Chris Hemsworth is pretty much my favorite Chris, and he is amazing and funny and, OBVIOUSLY, gorgeous, I was SO psyched to see Tom Hiddleston.
After snapping some pictures of Chris, I happened to turn around to see who was on the carpet for photos, and there he was…Loki himself. If you've never seen Tom Hiddleston act (first of all, how can you not have), you might not understand the fandom that is Hiddlestoners. I do. He. Is. Amazing. Yes, I was swooning at this point!
I call this one (that I did not take lol), "Here comes the smolder." Extra credit if you get the reference! So what do you think of the beard?!
And though there are so many amazing pictures from this event, I'll share just one more of the actors. I have to share Karl Urban because he's one of my new favorite people. He is so nice and friendly! You'll find out more during my interview post coming November 2!! Don't miss it! I promise, you'll love it!
Seeing the movie!!! (there just aren't enough exclamation marks in the world for this)
Dwan and I found that our seats were together (yay!), so we walked down to the FRONT ROW and took our seats. The cast came out one at a time, we screamed and clapped like crazy….It was surreal! At one point, Mark Ruffalo filmed ME (okay not just me) on Instagram live, but it was quickly taken down since he forgot to turn it off and accidentally live streamed the first few minutes of the film from his pocket. Oops! He did say he really wanted to sneak everyone in in his pocket lol!
THOR: RAGNAROK
You all know I was counting down the days until November 3 because that's the release date for THOR: RAGNAROK. I've SEEN the movie, and I'm STILL counting the days. Know why? It is THAT good. I was ready to see it again as soon as it ended! Those 2 hours and 10 minutes went by way too quickly. There was not one second during the movie that felt like filler. In fact….nevermind….I'll tell you on October 30th when I tell you about my interview with Director Taika Waititi.
Oh, and Tom Hiddleston sat in the section next to me 5 rows back. Sigh. I know the rest of the cast, as well as other stars, sat in the audience too, but it was too dark for me to see where they went. Plus I was a bit distracted by the fact that TOM HIDDLESTON was sitting that close to me!
You'll get my full THOR: RAGNAROK review October 19th, but for now I'll just tell you it's a must see. Get your tickets! If you still haven't seen the full trailer, watch it now!
THOR: RAGNAROK Trailer
Follow
Like THOR: RAGNAROK on Facebook: https://www.facebook.com/Thor/  
Follow THOR: RAGNAROK on Twitter: https://twitter.com/thorofficial
Follow Marvel on Instagram: https://www.instagram.com/marvelstudios/ 
THOR: RAGNAROK opens in theaters everywhere November 3rd!
#ThorRagnarok
Roll credits…
When the movie ended, I walked out (maybe floated out), and I about ran into Liam Hemsworth and Miley Cyrus, I was that close.
After I left the theater, several of us bloggers were lined up on the sidewalk waiting for the rest of our group. And then Karl Urban walked by and said hi and high fived us! He's just so nice! Before walking back to the vans, we got a great group photo on the Oscar stairs!
One of the best parts of this event is the friendships I made while there. These are some of the nicest bloggers, and watching this movie with them…experiencing the red carpet together…THAT is priceless.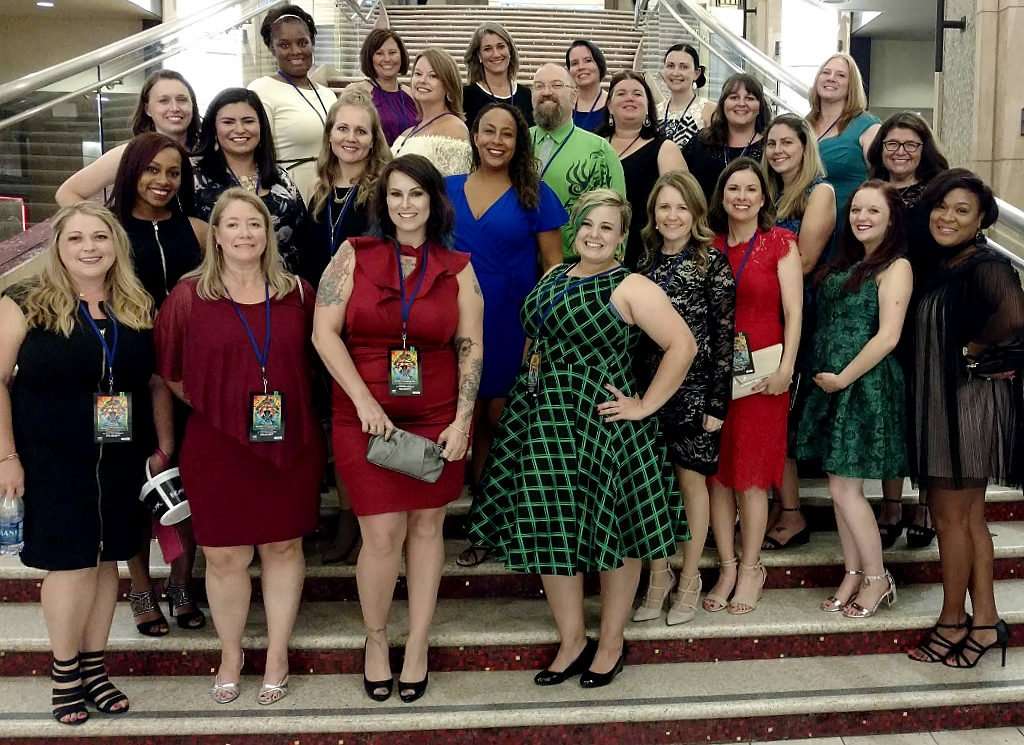 This experience was unbelievable. I'm still on cloud nine from all the fun I had. I made some great friends and can't wait for the next time I can experience an event like this. Now go get those tickets! Trust me…just go…now!