Thanks to Disney, I was able to interview Karl Urban at the Thor: Ragnarok Event. All opinions are mine.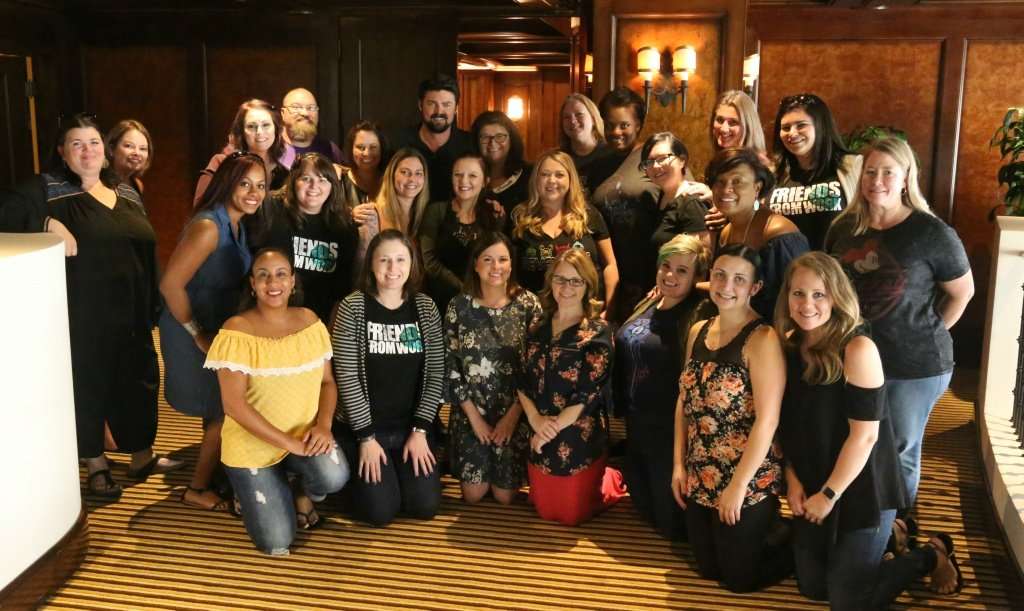 Karl Urban AKA "Skurge"
The first thing I've got to tell you is that Karl Urban is the nicest guy! When he walked into the room where we were holding the interview, he went down every aisle and shook each of our hands. Being my first trip with Disney I had no idea that no one has EVER done that. After this interview, we were told that in all of the events he (Marshall) has ever put together, Karl Urban is the first guy who has ever taken the time to do that. He went up on my fangirl scale 1000%.
See right there…right before he shook my hand? Pretty awesome!
ALSO, the night before that, after the THOR: RAGNAROK premiere, he walked by where a few of us were standing on the sidewalk and gave us high fives and said hi to us. He was just so cool and down-to-earth. I'll never forget that! Okay, enough gushing…
Improvisation
In my Taika Waititi interview post, I shared that all of Korg's (played by Waititi) dialog was improvised. Someone asked Karl Urban how much of the script was improvised.
"Full credit to Marvel. They hired a director in Taika who has a very strong comedic style and sensibility, and they actually let him do his job.  There was already a brilliant foundation in the script, and we would shoot a couple of versions of what was on the page and then shoot a wealth of material that Taika quite frankly just made up. [LAUGHTER] You'd be in the middle of a take and he'd be, 'Oh why don't you say this, say this line.' It was actually kind of liberating because you felt comfortable in that there was no such thing as a bad choice. I think that really kind of afforded everybody a wonderful freedom to fully explore all the options. " 
Seeing the film at the premiere
The night of the Los Angeles World Premiere of THOR: RAGNAROK was the first time Karl had seen the completed film We asked what he thought about it.
"I feel so blessed.  It was such a pleasurable experience to not only see the film with my friends and colleagues but to see the film with an audience who were thoroughly entertained. Again you have to give full credit to Taika and to Marvel for producing a film that reboots Thor in a wonderful, healthy, positive way.  And I'm so happy for Chris that he's finally been given the opportunity to spread his wings.  I think that this film showcases his complete full potential."
Time for Spoilers…Update
Now that THOR: RAGNAROK, has been in the theatres for a month, it's time to share more from my interview with Karl Urban. When I published this the first time, it was prior to the film's release. If you haven't seen it yet, I feel sad for you! Go see it!
We asked Karl Urban if he had a favorite scene from filming the movie that didn't make the final cut. He said that Skurge's introduction, where he's wooing the ladies, really is his favorite, but a lot of that scene was cut.
"They had a whole collection of stolen stuff that Skurge had had pillaged from the universe.  And you only got to see one thing: me shaking the (gesturing shaking) [LAUGHTER] whatever that thing was." 
"They had all sorts of stuff. We shot hours with me like with fishing rods with lures [LAUGHTER] uh, and all sorts of crazy stuff."
Growth of Skurge's character
Karl Urban's character goes through a lot of change during the film. In the beginning he is just trying to survive.
"Here's a character that's put in a situation where he has to make a decision. He has to align himself with a cause that he does not believe in, but it's the only thing he can do in order to survive.  I thought that was a very interesting moral dilemma.  And then, of course, once he's crossed that bridge and he realizes there is no turning back, he is looking for a way to redeem himself. That was ultimately his journey."
"What makes a character interesting, in my opinion, is the faults and the flaws that you can understand. In this case, it's pretty clear that this character is just trying to survive. You could see what it meant to him, his fear, his regret, his internal repulsion at what he was seeing was palpable."
Being a part of the Marvel Universe
Of course, we wanted to know how Karl felt about being a part of the Marvel Universe.
"Being part of Marvel Universe is an absolute pleasure. They are a wonderful collaborative company, and I have a huge degree of respect for what they have done.  And particularly what they have done on this film and how they've supported Taika and really put a network around him and gave him freedom and had the courage to let him do his job."
Working with Cate Blanchett
Someone wanted to know how it was being in a film with such strong women like Cate Blanchett and Tessa Thompson.
"I think it would have been a boring movie without them. Cate and Tessa are so wonderful in this film. They are my favorite parts of the movie, and I love seeing Tessa's swagger. I love the journey of her character…I thought it was a strong compelling journey.  Then I had such a wonderful time working with Cate Blanchett.  I mean to be perfectly honest, she was the reason I decided to do this movie. It was the opportunity to work with Cate Blanchett.  I read that script and saw that ninety percent of my material was with her, I'm like where do I sign up; how much do I pay you?" 
On teaching his kids to do the right thing
I got to ask Karl Urban about his boys. He took his 16 year old son to the premiere! How awesome. Anyway, I wanted to know how he teaches his kids to make the right choices. Since his character had to make the tough decision…survive or make the right choices…I wanted to know how, as a parent, he instills that in his kids, and I loved his answer and agree with his philosophy 100%. I have so much respect for him, and think he's a great dad.
"Well I I think with parenting the key is to lead by example and provide a lot of love and support for them. I'm also a firm believer in allowing them to fall down and allowing them to make mistakes because that is ultimately the way we learn.  You know, if you can learn from somebody else's mistake then you're smart.  [LAUGHTER] But most of us learn by making mistakes. It's wonderful to watch them grow and flourish when you don't push them too hard. I think that when I'm most proud of my sons is when out of their own volition, they start to make the right choices in life."
In theatres now
Have you seen THOR: RAGNAROK yet? If not, go see it!
Here's the trailer again, just because it is so awesome!
Follow
Like THOR: RAGNAROK on Facebook: https://www.facebook.com/Thor/  
Follow THOR: RAGNAROK on Twitter: https://twitter.com/thorofficial
Follow Marvel on Instagram: https://www.instagram.com/marvelstudios/ 
THOR: RAGNAROK opens in theaters everywhere November 3rd!
Pin Me