This post was sponsored by Ling Ling; however, all opinions expressed in my post are my own.
My family loves Chinese food, and we eat it frequently. We are going to celebrate Chinese New Year this year with Ling Ling Chinese Style Vegetable Fried Rice and General Tso's Chicken.
Celebrate Chinese New Year
2018 is the Year of the Dog. It's my year! It is also my daughter's year. If you were born in 1934, 1946, 1958, 1970, 1982, 1994, or 2006, you're a dog too! That's not a bad thing. Dogs are loyal and honest, amiable and kind, cautious and prudent. Sounds pretty good to me! Oh no! Apparently you're supposed to have bad luck in your birth year! For the year of the dog, this zodiac thing is telling me to take lots of walks around lakes and in parks this year to get rid of my bad luck. If you need me, I'll be in the park.
I think it is so cool learning about different cultures and their traditions.
Celebrate Chinese New Year with these traditions:
Distribute Red Envelopes (signifying Joy and Luck) filled with money to start the year with prosperity.

Don't wash your hair on Chinese New Year because you will wash away your good luck for the year.

Don't sweep either! You'll sweep out your good luck!
Clean your house in the days leading up to Chinese New Year to get rid of the bad luck.
Step into new shoes to start the new year off on the right foot. I'm good with new shoes!
Food is an important part of Chinese New Year's Eve and Day. Different parts of China think different foods will bring good luck. I guess that's sort of how it is in the United States too. In my part of the country, we eat pork and sauerkraut, but in the south they eat black-eyed peas and greens.
Ling Ling Fried Rice
However you choose to celebrate Chinese New Year, be sure to add Ling Ling Chinese Style Vegetable Fried Rice to your table. It is delicious and easy to prepare. I love General Tso's Chicken, so it is a dish I frequently eat with fried rice. You know me. I am all about easy meal preparation. With my family (my daughter who is a substitute teacher, my son who is a college student working in a car dealership, and me) always on the go, fast and easy is the way we have to have our meals.
General Tso's Chicken and Ling Ling Fried Rice
Ingredients
2

T.

oil

1

chicken breast

cut into small cubes

2

T.

cornstarch

General Tso's Sauce

Ling Ling Chinese Style Vegetable Fried Rice
Instructions
Cut chicken into small cubes

Coat with cornstarch

Saute in 1 T. oil

Top with General Tso's Sauce

Cook until heated through

Prepare Ling Ling Fried Rice as directed on box

Serve
This recipe is super simple because all you need to do is cut a chicken breast into small pieces, toss it in some cornstarch, saute it in oil and add some premade General Tso's sauce. If you have time, you can make your own sauce, but like I said, I almost always don't have time! By using Ling Ling Chinese Style Vegetable Fried Rice, you have made your Chinese New Year celebration even easier! You'll have more time to spend with your family and friends.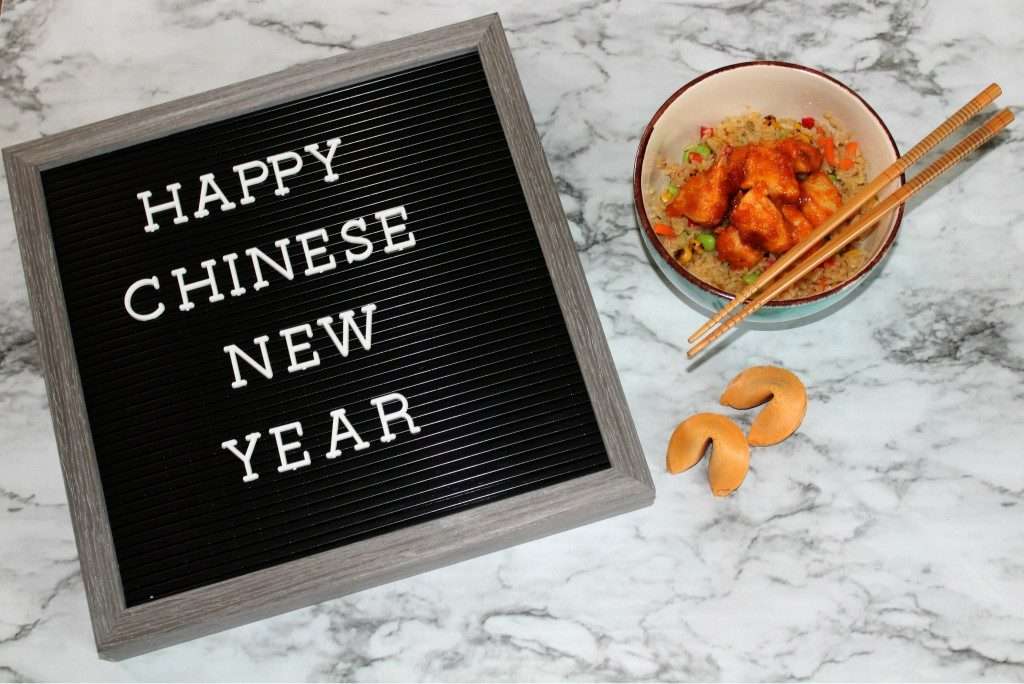 Follow
Ling Ling Facebook Page: https://www.facebook.com/LingLingAsianKitchen/
Ling Ling Twitter Page: https://twitter.com/LingLingPanda
Find Ling Ling Asian Food using this Store Locator