You want to have a healthy body, but each part of our bodies needs different types of care. This might mean different exercises, vitamins or foods. With that in mind, here is an essential guide for a healthy body.
Skin
We all need to care for our skin. It covers your whole body and does more for you than you may think. In order to have healthy skin, you need to make sure that you are eating a healthy and balanced diet, and that you are drinking enough water each day. If you do not keep yourself sufficiently hydrated, then you will find that your skin starts to dry out and crack.
You can also use moisturizer on particularly dry areas of your skin, and this will also help to keep it smooth. If you eat a lot of unhealthy food or do not wash your skin properly, then you can start to develop acne. This is especially true for your face and back. Your face and back can have a buildup of oils and this, in turn, can mean that you end up with acne. Wash your face twice a day and make sure to wash the rest of your body frequently in order to keep your skin healthy.
Hair
Your hair needs as much attention as the rest of your body. In order to have healthy hair, you need to make sure that you do not overwash it. Depending on your hair type, overwashing can make your hair dry and brittle. You want soft, luxurious hair. Brushing your hair often no matter your hairstyle helps to spread your hair's natural oils. These oils keep your hair hydrated and healthy throughout the day. When you brush your hair, start at the bottom and work your way up. This puts less strain on your hair's roots and your hair will be healthier.
Muscles
Looking after your muscles is easier than you might think. First, be sure your diet has enough protein in it. If it doesn't, then you can to lose muscle. To keep a healthy body, make sure you're exercising all of your muscles. Take some extra time during your workout sessions to check that you haven't forgotten anything.
You also want to make sure that you do not overwork your muscles, and you take sufficient days off so that your muscles can rest and recover. Just like the rest of your body, you also want to be sure you are getting enough rest and sleep and eating healthily. All of these will contribute to keeping your muscles healthy.
Eyes
You need to keep your eyes healthy. There are actually daily eye exercises that can help your vision! You can can do a quick Google Search to find examples of these exercises. Keeping your eyes healthy also means you're careful about things like looking directly at the sun, reading while it is dark and straining your eyes. You also need to get regular eye examinations. 
Nails
In order to keep your nails healthy, you should make sure that you are getting enough iron, calcium, zinc and other vitamins in your diet. You should also cut them regularly, and don't bite them. If you notice white marks on your nails, then your diet is probably missing an important vitamin. Much like the rest of your body, your nails rely on you having a healthy diet in order to flourish. Do not ignore the health of your nails. 
Teeth
You need to look after your teeth because if you don't, it can be painful and expensive. You won't get another set of teeth, so don't ruin the ones that you have. You need to get enough calcium in your diet in order to keep your teeth strong. This might mean adding supplements or eating foods rich in calcium to make sure you're getting enough.
You also need to brush your teeth at least twice per day. Once in the morning and again before bed. This will remove any plaque and bacteria on your teeth and help to keep them clean and healthy. You should also avoid overly acidic and sugary foods. Both of these can cause severe damage to your teeth, and you do not want this. You can have chewing gum after a meal to help reduce the damage that could be caused to your teeth. Certain types of chewing gum can neutralise the acid in your mouth after eating and prevent bacteria from sticking to your teeth.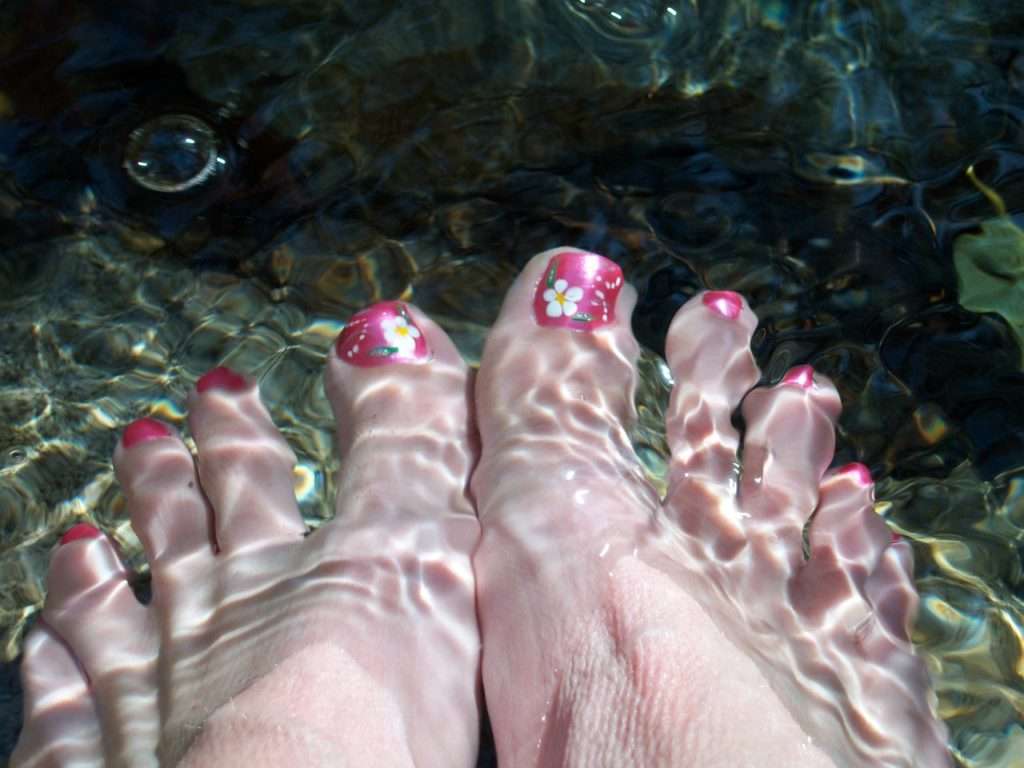 Feet
Your feet take you everywhere that you go. Whether you're walking, standing, or running, your feet are important. They're part of having a healthy body, so you need to look after them. You should always wear shoes that fit correctly and make sure that you wash your feet often. Also, you should not wear high heeled shoes too often, otherwise you can cause damage to your feet. If your feet become damaged, it can make getting around much harder than it should be.
Be kind to your feet, and if you have any problems with them, immediately consult a professional. Your feet also have nails, and similarly to your fingernails, they need to be looked after. However, unlike your fingernails, they are constantly being used when you're walking around. This means that looking after them is even more important. You can maintain their health in the same way as your fingernails, but be sure you're clipping them straight across to prevent ingrown toenails. 
These few simple things are essential to a healthy body. The better you care for your body, the better you will feel in the long run. How do you keep your body healthy?