Adorable and Fun Easter Treats
Easter will be soon be here. Have you decided what you are going to make yet? I've got some really fun ideas for Easter treats you can make. The recipes included baked and no bake Easter treats. They will all make great additions to your kids' Easter baskets or your Easter dinner table! They're not only tasty, but they're also adorable!
Many of these fun Easter treats are easy enough for you to make with your children, especially the no bake Easter treats. Others take a bit more skill. Whichever ones you decide to try, I know you'll be happy with the results!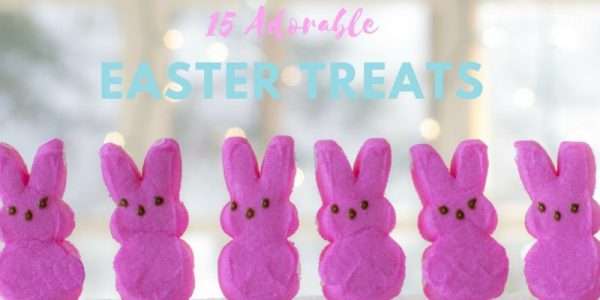 Easter Treats
Milano Cookie Easter Eggs from The Monday Box
This no bake Easter treat uses graham crackers! These Milano Cookie Easter Eggs are so pretty!
No Bake Easter Nests from My 3 Little Kittens
No bake Easter treats are always a great choice, especially if you live in a warmer climate. I love these nests!
Easter Krispie Bars from The Monday Box
You can make these Easter Krispie Bars from The Monday Box in advance to save time!
Easy Easter Stencil Cookies from Spaceships and Laser Beams
These stencil cookies from Spaceships and Laser Beams might sound difficult, but they're easy enough to do with your kids!
Italian Easter Bread from Palatable Pastime
I've never made Easter bread, but this recipe from Palatable Pastime looks amazing!
Easter Bunny Rice Krispie Treats from Mommy Evolution
Double Chocolate Easter Bark from Eats Amazing
Chocolate bark is so good and so easy! I love how cute this recipe from Eats Amazing is.
Krispie Treat Carrots from Cincy Shopper
These are adorable and super easy since you use premade Rice Krispie Treats!
Easy Easter Cupcakes from Ann's Entitled Life
These cupcakes from Ann's Entitled Life are so pretty, and they're easy since they use a mix!
M&M Easter Bark from Freebie Finding Mom
Here is another pretty and easy recipe for Easter bark. Check this one out at Freebie Finding Mom.
Coconut Macaroon Nests from Trial and Eater
I'd put some chocolate eggs in these instead of jelly beans.
Spring Chocolate Covered OREO cookies from Happy Deal Happy Day
This is another one of those yummy no bake Easter treats, and who doesn't love OREO cookies!
Mini Pudding Pies from Making Time for Mommy
These no bake mini pudding pies look like a great treat to make with your kids!
Bird Nest Brownie Bowl from Sugar Spice and Family Life
These bird nest bowls are adorable!
Caramel Brownie Easter Egg Hunt from Stylish Cravings
Go on an Easter egg hunt with this brownie recipe.