Wakanda Forever! This has become more than a line from a movie. I love Wakanda for a number of reasons, and one of those reasons is its positive female role models. BLACK PANTHER is roaring to digital in HD and 4K Ultra HD™ and Movies Anywhere today and on 4K Ultra HD™, Blu-ray™, DVD and On-Demand on May 15.
Positive Female Role Models in Black Panther
If you read my post about why I think girls need to see BLACK PANTHER, you already know that I think there are some amazing female role models in BLACK PANTHER. It is so important for girls to see women in leadership roles, and BLACK PANTHER does this well.
To celebrate the in-home launch of this mighty Marvel movie, here is just some of what the cast and crew have to say about the women of Wakanda. It's the subject of one of the exclusive bonus features: The Warriors Within.
The Women of Wakanda
LUPITA NYONG'O [NAKIA]
"I love the way BLACK PANTHER represents women. Each and every one of us [in the movie] is an individual. We all have our own sense of power and we hold our own space without being pitted against each other. I think that's a very, very powerful message to send to children – both male and female."
"In BLACK PANTHER, we see women going about their business and supporting each other. They argue with each other and have different points of view, but they are not pitted against each other and I think that's extremely important. In doing this, audiences can get a sense of the fabric of Wakanda as a nation, where we see women alongside men and we see how much more effective a society can be if they allow women to explore their full potential."



DANAI GURIRA [OKOYE]
"When [BLACK PANTHER director and co-writer] Ryan Coogler sat me down and talked to me about his vision for the movie, the story, the characters – and the women – I was floored because you don't get to hear stories like this very often. It's not often that you sit down and hear that type of a vision. It was amazing."
FOREST WHITAKER [ZURI]
"The power of motherhood is displayed by Angela Bassett's character [Ramonda] and the way she nurtures her children. She moves her son and daughter forward, and she's willing to do anything to make sure they are well and right."
"Then there's Shuri, who shows everyone the technology of this world. She illustrates the fact that women can be adept with technology and math; the movie recognizes that attribute inside of women. These are very powerful statements to the world."
MICHAEL B. JORDAN [ERIK KILLMONGER]
"In Wakanda, the matriarchs are the backbone and the foundation on which the country is built on, and the men lean on their women for guidance and strength. I think it's extremely important for little girls and women out there to see themselves represented in a positive, strong way in film and television – and I think Wakanda does it really well. I think BLACK PANTHER is amazing in that respect."
"In African culture, the women are the backbone of society and they have such a positive influence on everyone. To not put a strong representation of that into the film would be a crime because we wanted to stay true to reality."



DIRECTOR AND CO-WRITER RYAN COOGLER
"When you look at African culture, you'll often see gender roles that are different from the norm. You'll find issues with gender dynamics in African culture in the same way you do in other cultures, but you'll also find things that are different. Strong women and women's influence on culture and society is something that cannot be overlooked. That was something that we really wanted to include in the movie, although it's something that was present in the BLACK PANTHER comics as well."
"T'Challa's mother, Ramonda, is a constant influence on his world. And T'Challa's relationship with his sister is one of the more unique relationships in comic book films and action films. It was something that we looked at because there's no super hero with a little sister – but Shuri is possibly the most important relationship in his life. That was something that we really wanted to explore. And then you have the Dora Milaje, who are these elite warriors in the country and it's all women."
"This film had involvement from brilliant women from start to finish. They weren't hired because they were women; they were hired because they were the best people for the job. That includes our cinematographer, Rachel Morrison; our costume designer, Ruth Carter; our production designer, Hannah Beachler; and our assistant director, Lisa Satriano. In post-production, the film was edited by Michael Shawver and Debbie Berman, who is from South Africa. I was blessed to work alongside these incredible women and to have their perspective and their fingerprints all over the project."
BLACK PANTHER Bonus Material
May vary by retailer
Blu-ray:
Director's Intro
From Page to Screen: A Roundtable Discussion – Delve into the film's making
Crowning of a New King – Explore the world of "Black Panther" in all its color and complexity
The Warriors Within – Get to know Wakanda's women and the actors who portray them
The Hidden Kingdom Revealed – Wakanda's diverse people
Wakanda Revealed: Exploring the Technology
Deleted Scenes
U.N. Meet and Greet
Okoye And W'Kabi Discuss the Future of Wakanda
T'Challa Remembers His Father
Voices from the Past
Gag Reel
Exclusive Sneak Peek at "Ant-Man and The Wasp"
Marvel Studios the First Ten Years: Connecting the Universe
Director's Commentary
Digital Exclusives:
o   In World Wakanda Tourism Ads
Come to Wakanda "Before"
Come to Wakanda "After"
Follow on Social Media
Like BLACK PANTHER on Facebook: https://www.facebook.com/BlackPantherMovie
Follow BLACK PANTHER on Twitter: https://twitter.com/theblackpanther 
Follow Marvel Studios on Instagram: https://www.instagram.com/blackpanther
#BlackPanther
Have some fun celebrating BLACK PANTHER's in home release with these Bingo Cards! Click on the image below, and a PDF file with the cards will download automatically!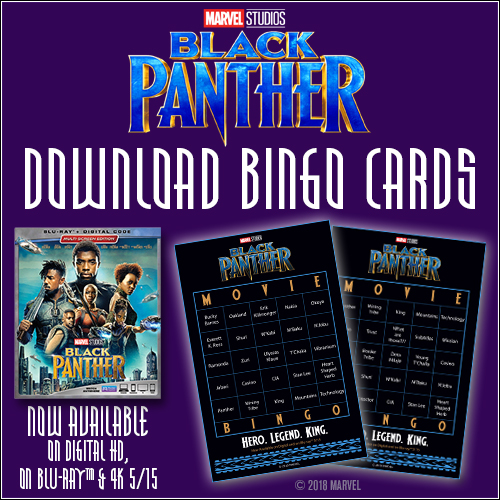 Pin for later