Disclosure: I am a Roto-Rooter ambassador, and DIY Fixes for a Clogged Drain is a sponsored post. All opinions are mine.
A clogged drain is a nightmare! You break out the plunger, and plunge and plunge and nothing happens! Oh, the water might go down a little bit, but it's still stuck!
DIY Fixes for a Clogged Drain
What can you do other than call a plumber? I've got a couple of DIY fixes for you that can save you a lot of money.

Drain Snake
You can find a drain snake for a very low price at almost any hardware store or a large department store that has a hardware department. The type I'm talking about are made of plastic and cost less than $5. They are super easy to use, and they can fix a lot of hair clogs. When you use a plastic drain snake, be sure you've got a little bit of water running and pull the clog out slowly.
You'd be surprised at how much hair can get stuck in your tub or shower drain. A lot of the time, this alone is enough to get your clogged drain flowing again. If the clog is lower in the drain or if it isn't hair that's clogging your drain, I've got another solution for you.
Roto-Rooter Products
Roto-Rooter Hair Clog Remover is great for hair clogs that you can't reach with your plastic drain snake. If you've used your snake, and the tub or shower is still draining slowly, grab your Roto-Rooter Hair Clog Remover and follow the directions on the bottle.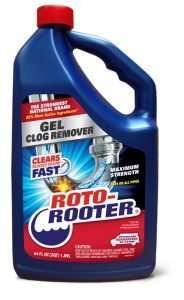 What if your clog isn't hair? Hair isn't usually what is clogging your bathroom sinks, so a plastic drain snake isn't going to help.
Those slow running sinks are usually clogged with soap scum and toothpaste. Roto-Rooter Gel Clog Remover is great for those clogs! I have used this in my bathroom sink, and it works so well.
My late husband used to say that liquid soap clogs a sink quickly. He was right. Using a foaming soap or bar soap is another way you can keep your sinks from becoming clogged in the first place. I'll be talking more about routine maintenance for your plumbing this fall!
What DIY fixes for a clogged drain do you have? Did you miss my Roto-Rooter 101 post? Go back and check it out here.