Disclosure: I attended an all expenses paid trip to Pixar. All opinions in Women in Animation |  Making the Pixar Short Film Bao are my own.
Disney Pixar Short Film Bao
One of the things I love most about Pixar films is the short film they show before the movie. Even though these shorts are "short" (only a few minutes long), they tell an entire, emotional story. It's like you're getting two movies for the price of one!
In Disney Pixar's all-new short, BAO, a dumpling springs to life as a lively, giggly dumpling boy, giving an aging Chinese mom another chance at motherhood. When Dumpling starts growing up fast, however, Mom must come to the realization that nothing stays cute and small forever.
Women in Animation: Making Bao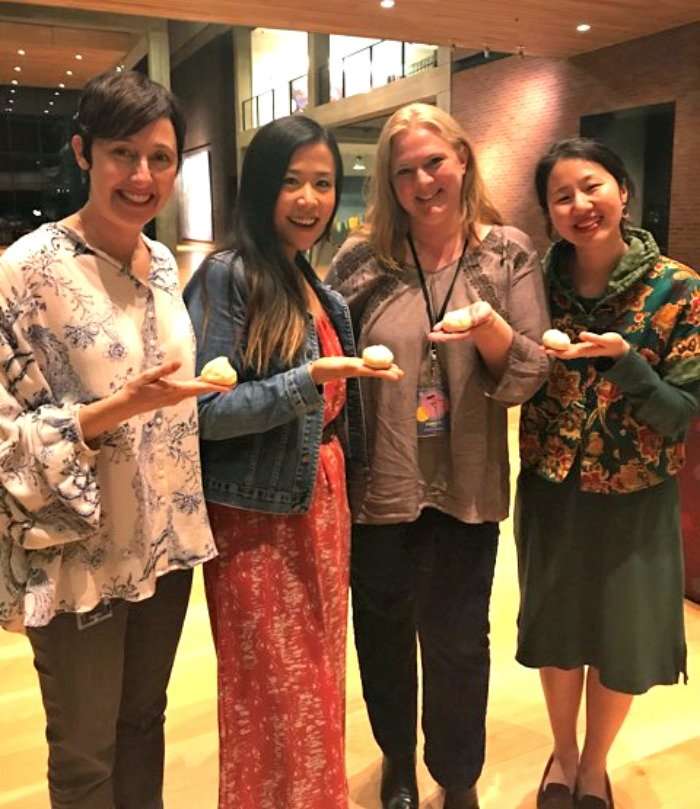 BAO, the new Disney Pixar short film which will play before INCREDIBLES 2, is the first Pixar short film directed by a woman. That woman is Domee Shi. During my trip to Pixar Animation Studios in San Francisco, I had the pleasure of attending a presentation given by these women in animation: Director Domee Shi, Production Designer Rona Liu, and Producer Becky Neiman.
Director Domee Shi
In 2014, Domee Shi had been working for two years as a story artist on INSIDE OUT. She told us that she wanted to do something of her own…something creative and something that was like her: "a little weird."
Shi decided she wanted to make something about food because she loves food…drawing it AND eating it! She loves folk tales centered around food, like the Gingerbread Man. In Chinese culture, food and family go together. The way you show someone you care about them is by asking, "Have you eaten yet?"
In 2015, Pixar put out an open call for shorts. Shi pitched the idea for BAO, and it was chosen. I loved hearing how Domee Shi came up with the idea for BAO. Shi grew up in Toronto in a Chinese immigrant family. She spent all of her time with her mom, and her mom treated her like her "precious little dumpling." It was very hard for Shi's mom to let go once she started to grow up since they were so close.
Because of all this, Shi always knew she wanted her story to be an empty-nester type of story based on the "creepy, sweet love" of a mom. When Shi's pitch got chosen, she started doodling whatever ideas for BAO came into her head. She knew she wanted all things "Chinese Granny" (colorful floral shirts, comfy athletic shoes, determined attitude) to be included in the mom character in BAO.
Shi had lots of drawings that she ended up not using because she felt they didn't add to the emotional aspect of the story she wanted to tell. For clarity, she threw out anything that didn't have to do with a child growing up and a parent's reaction to their growing up.
2D to 3D
When it came to the animation of the film, translating how Shi wanted mom and dumpling to look (squishy, large head, squat body, exaggerated emotions) was a challenge going from 2D to 3D. It was very satisfying once they got that down.
Food was also a big challenge. Shi's mom came in to give dumpling making lessons to show them how a dumpling should look and move and feel. I'm sure they liked eating them too!
Rona Liu
Production Designer, Rona Liu, lived in China until she was 10 years old. Liu, like Shi, also grew up with Chinese fairy tales, and she was very familiar with that cute, adorable look Domee Shi was going for with BAO. Liu and Shi went on a lot of weekend trips to gather inspiration for the short. What they observed of Chinese art was that it was almost always very simplified. This led them to the realization that their backgrounds needed to be simple. The characters had to be the focus of the film.
These weekend trips also gave them inspiration for using colors in BAO. Those Chinese Grannies that Shi told us about really inspired these women. They decided they'd use mom's fashion choices and the colors she wears in BAO to express her emotions. As you know, Pixar short films don't have any dialog, so the story has to be told through these types of things. This works so well in BAO. When mom is happy and her family is together, she's wearing red and gold…all bold colors. When she is sad, she wears muted colors.
The color choices were also important in the house and settings for BAO. The kitchen has warm, earthy tones to push the surroundings back and the characters forward. The kitchen scenes are warm and cozy, so those warm colors help to tell the story. BAO is mom's story, so really, everything is put there to tell about mom. Nothing was just thrown in. Even the tin-foil covered stove-top burners show mom's practical side. The kitchen is obviously very important! These women want the people who are watching Bao to feel like they do when they're at their own mother's house…"cozy, safe and loved."
Becky Nieman
Becky Neiman wasn't only the producer for BAO…she also became the expert on all things baby since she had her own little dumpling during the production of the short.
Neiman talked to us about visual effects and sound in BAO. Visual effects are a funny thing. These people can do huge fireworks and explosions, but give them pork filling and they're brought to their knees! She said it took 2 visual effects artists 2 months to get that pork filling to look just right. Food is a tricky thing in animation. Thank goodness for Domee Shi's mom, right? Her dumpling making tutorials really did help the artists get the look right.
The score of a Pixar short is another important aspect in telling the story. Just like color and light help show the emotions, the score does the same. It carries a lot of weight in the storytelling, and the score in BAO does a great job thanks to Toby Chu. He has composed music for over 50 television shows and films.
Five takeaways from the Bao presentation
Dedication, hard work and passion pay off! BAO wasn't the only thing Domee Shi was working on from 2015-2017. She was working full-time as a story artist on TOY STORY 4, and working on BAO during her evenings and weekends! I'm sure it was exhausting but totally satisfying. And, having seen BAO, I can tell you that it paid off.
Take a chance! What if Shi hadn't pitched the idea for BAO during the open call for shorts? How many times do we think our ideas aren't good enough? The worst someone can say is no. You'll have a lot of nos in your life. But you'll also have yeses. Those yeses are worth the nos.
Food is a universal love language. Some of the best memories I have about my grandma revolve around food. My mom says the same about her. Whenever we were sad or sick, she would bring us cream sticks from her favorite bakery. She loved taking me out to eat. How many of you have these same types of memories?
Mom telling you what to wear is a universal love language too. One of my favorite parts of this presentation was seeing a picture of Rona Liu and Domee Shi embracing their inner Chinese Granny style. Liu said that during the making of Bao, she realized that when her mom was telling her what to wear, she was really showing her that she loved her. Mom says, "Wear a hat." What she means is, she doesn't want you to get sunburned! A hat will shade your face from the sun. Mom says, "Always wear socks." What she means is, she doesn't want you to have cold feet! Mom says, "Wear a vest." What she means is, a vest is a practical choice for any occasion. It's easy to carry and is a good choice for the ever changing weather in the Bay area. I thought this was so cute and so true.
Letting go is HARD! I'm right there on the cusp of being an empty-nester. Both kids have graduated from college and will certainly soon be making enough money to be independent. How am I going to live without seeing them all of the time? I don't know, but I do know that all moms feel this way. Like Mom in BAO, I want to keep my little dumplings with me always. I've got that "creepy sweet love" all moms have. But that's the way life is supposed to be. We have them for a little while, and then, if we've done our job well, they leave us and begin life on their own. Yes, letting go is hard.
Make your own Bao
Did you know that bao means 2 different things in Chinese depending upon how you say it? Say it one way, and it means steamed bun. Say it another way, and it means something precious. Well, thanks to Domee Shi and her mom, you can make your own bao.
See Bao with Incredibles 2
BAO opens June 15, 2018 with INCREDIBLES 2! I can't wait for you to see this emotional short. Everyone will love it, but if you're a mom, it will definitely resonate with you.
Follow
Like INCREDIBLES 2 on Facebook: https://www.facebook.com/PixarTheIncredibles/
Follow INCREDIBLES 2 on Twitter: https://twitter.com/TheIncredibles
Follow INCREDIBLES 2 on Instagram: https://www.instagram.com/theincredibles/
Visit the official INCREDIBLES 2 website here: http://disney.com/incredibles2
You may like these INCREDIBLES 2 posts too
My Visit to Pixar Animation Studios for Incredibles 2
Disneyland Food and Fun at Pixar Fest through Sept. 3, 2018
Incredibles 2 | Wardrobe Design and Costuming
Architecture, Design, Urban Planning and Action Scenes | Animating Incredibles 2
Incredibles 2 Press Conference | Producers and Director Brad Bird