Bring VENOM home now
Great news, Marvel fans! You can bring VENOM home now! It's available on digital now and 4K Ultra HD™ Combo Pack, Blu-ray™ Combo Pack, and DVD December 18!
VENOM tells the evolution story of Marvel's most enigmatic, complex and badass character Venom! Eddie Brock (Tom Hardy) is a broken man after he loses everything including his job and fiancée. Just when his life is at its lowest, he becomes host to an alien symbiote which results in extraordinary superpowers – transforming him into Venom. Will these powers be enough for this new lethal protector to defeat great evil forces, especially against the far stronger and more weaponized symbiote rival, Riot?
The movie stars Tom Hardy, Michelle Williams, Riz Ahmed, Jenny Slate and Woody Harrelson. It is directed by Ruben Fleischer and written by Jeff Pinkner & Scott Rosenberg and Kelly Marcel. The film is produced by Avi Arad, Matt Tolmach and Amy Pascal.
Make your own monster!
This holiday, make your own monster with this incredible DIY Venom Paper Foldable! Click the image to download it and start building!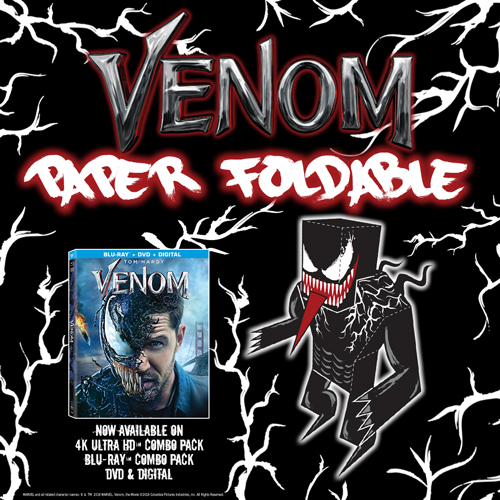 My Review
If you're a regular visitor to my blog, you know how much I love Marvel movies. The highlight of my blogging career was when I was able to attend a Marvel movie world premiere: THOR: RAGNAROK. Now I know you might be thinking, umm, that's Disney Marvel and this is Sony Marvel. Who cares! Marvel is Marvel, and I loved VENOM!
It's got that classic Marvel humor with tons of action and amazing characters. The story begins with Eddie Brock, former investigative reporter, getting the lead of a lifetime, but he gets it in an unethical way. This ruins his relationship, and the lead causes him to lose his job. It turns out, he was right about the lead, and when one of the scientists tries to help him get the evidence he needs, he gets the alien symbiote instead!
That's all I'm going to tell you because I don't want to spoil all the fun you'll have watching VENOM yourself! As with all Marvel movies, make sure you watch the whole thing through the credits. There is a mid-credit scene you're not going to want to miss, and the end has a peek at INTO THE SPIDER-VERSE (which is out now!)
The film has a run time of approximately 112 minutes. It is rated PG-13 for intense sequences of sci-fi violence and action, and for language.
Get amazing bonus content
Venom Mode: When selecting this mode the film will engage informative pop-ups throughout the film to provide insight on the movie's relationship to the comics, and to reveal hidden references that even a seasoned Venom-fan may have missed!
Deleted & Extended Scenes: These deleted and extended scenes will give fans even more of the Venom action they loved in theaters!

Ride to Hospital – Eddie and Venom take a ride to the hospital.
Car Alarm – Let's just say that Venom is not fond of car alarms.
San Quentin – Extended post-credits scene at San Quentin.

From Symbiote to Screen: A mini documentary about the history of Venom in comics and his journey to the big screen. Interviews with Avi Arad, Matt Tolmach, Ruben Fleischer, Oliver Scholl, and Director and Comic Fanboy Kevin Smith.
The Lethal Protector in Action: Go behind the scenes with the production crew and learn the secrets behind the awesome Motorcycle stunts, wire stunts, and drones.
Venom Vision: A look at how Ruben Fleischer came to the project, gathered his team, and made Venom a reality. Utilizes interviews from cast, crew, and producers as well as Fleischer himself.
Designing Venom: Designing and creating Venom meant a huge challenge for VFX artists; follow the amazing journey.
Symbiote Secrets: Blink and you may have missed it! Enjoy the hidden references throughout the film.
8 Select Scenes Pre-Vis sequences: See the progression of the visual effects, storyboards and fight choreography compared to the finished film.
"Venom" by Eminem – Music Video
"Sunflower" by Post Malone, Swae Lee (From Spider-Man: Into the Spider-Verse)
Spider-Man: Into the Spider-Verse Sneak Peek: Meanwhile in another universe…
Did you miss the Rom-Com trailer for the Blu-Ray/Digital release?
Watch it here!