Disclosure: Snowman Pepperoni Cheese Ball Recipe is a sponsored post with Ohio Pork Council. I received Sugardale products at Freshmark and compensation in order to facilitate this recipe.
Pepperoni Cheese Ball Recipe
Have you ever wondered what it's like inside a bacon processing plant? Maybe, maybe not. Either way, I'm going to talk to you a little bit about my tour of Freshmark in Massillon, Ohio. I'm also going to share a pepperoni cheese ball recipe from the Sugardale website that I made, and you can make for the upcoming holidays or any day!
Freshmark Tour
The company that is now known as Freshmark has a long history in the pork business! It began as The Stark Provisions Company way back in 1920. That means they'll be celebrating their 100th Anniversary in 2020! The company has grown from 13 employees in 1920 to 3,000 employees company wide.
Freshmark has 3 plants in Ohio: one in Massillon, one in Canton, and one in Salem. As I said, the tour I took was in Massillon, and there, they only deal in bacon. You know, everything is better with bacon, especially Sugardale Bacon. The other two plants focus on the remainder of the products like the pepperoni I used in my pepperoni cheese ball!
How is Sugardale Bacon processed?
A lot of work goes into making Sugardale Bacon. The bacon processing starts with pork bellies fresh off the trucks. The raw receiving team makes sure the quality meets Sugardale's high standards. The Sugardale Bacon you find on the shelves of your local store is the highest quality.
These are just a few of the steps the pork bellies go through before they become bacon. My favorite part was watching the bacon in the slicing machine. They slide half of a pork belly into the machine, and it goes so fast! Once it comes out, employees make sure the slices are the same size. If they aren't, the slice goes into a container for bacon bits! I love that there is no waste at Freshmark.


It's all about the consumer
What the Freshmark company most wants you to know is that their mission is all about you as a consumer. They're dedicated to their community, and they recently donated 32,400 meals during a food drive. Sugardale wants to know how they can meet your needs.
They're constantly working to improve their products, create new recipes (like the pepperoni cheese ball recipe I made), and educate consumers on things like how to choose a ham. Speaking of new recipes and ham questions,  you need to follow Sugardale Foods on YouTube! The creative team at Sugardale is working on revamping the recipes and videos to meet today's consumers' needs.
One of their plans for 2019 is to take a brand new food truck out on the road for 6 months of the year. The food truck won't be selling food; they'll be sharing samples of new products and old favorites. This affords them the one-on-one consumer experience that people need. Sugardale plans on reaching over 75,000 people at stores and food festivals like Taste of Chicago, the Pennsylvania Bacon Fest, and the World Pork Expo.
Snowman Pepperoni Cheese Ball
Sugardale Pepperoni is made in using premium quality ingredients and is carefully crafted to provide the genuine, old-world flavor that can be enjoyed at any time. You can definitely taste the difference in Sugardale Pepperoni! I used it to make this cute snowman pepperoni cheese ball. You could shape this recipe into a football for the upcoming bowl games or just enjoy it as a dip.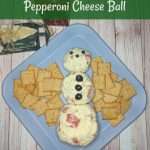 Pepperoni Cheese Ball
This delicious pepperoni cheese ball recipe will be sure to delight your guests. Take it to family gatherings, and people will be asking you to bring it again!
Total Time
2
hours
30
minutes
Servings
24
people or more
Ingredients
1

c.

Sugardale Pepperoni

diced

16

oz.

cream cheese

softened

3

c.

Italian cheese blend

shredded

.6

oz.

dry Italian dressing mix

1/4

c.

green olives

chopped

2

c.

Parmesan cheese
Instructions
Place softened cream cheese and dry Italian dressing mix in a bowl and beat until blended.

Add shredded cheese (and olives if you want)

Mix with a spoon until everything is incorporated.

Chill for at least 2 hours.

Roll cheese ball in Parmesan cheese right before serving.
Recipe Notes
I didn't use olives, and I didn't roll it in Parmesan cheese because I'm not a huge fan unless it's on spaghetti. You can make this your own for sure. 
I learned so much during my time at Freshmark, and I wish I could share it all! All of the research and work that go into developing products is staggering. If you want to know more, you can ask me, and I'll try to find you the answers! You can also follow Sugardale below. They check their social media often and will get back to you quickly!
Follow on Twitter
Like on Facebook
Follow their Pinterest boards