My favorite scene in RALPH BREAKS THE INTERNET is the comfy princesses scene. I could watch it over and over! Now that the movie is available on Digital, 4K Ultra HD , Movies Anywhere, and Blu-ray, you and I can watch it anytime! Now, watching that comfy princess scene might just inspire you to have a lounge around party just like the princesses. You are going to need chocolate which is why I'm sharing a fun, Vanellope inspired candy bark recipe.
My friend, Sara, at Mom Endeavors had the most adorable Vanellope inspired outfit at the RALPH BREAKS THE INTERNET world premiere, and her hair had all of these tiny candy buttons. That gave me this idea for this candy bark!
You can see a tiny bit of my favorite scene in this video.
Lounging with comfy princess clothes
Of course, if you're going to lounge around, you need lounging clothes! My lounging choice is Merida's Mum shirt. It's so comfy! Of course, there are lots more lounging choices! If you've seen the movie, you probably have your favorite outfit from the comfy princesses scene. I love them all!
Make Vanellope inspired candy bark
Sweets are always good to have on hand during a lounging around party. This is a very easy sweet treat to make, and it's yummy to eat! Have some popcorn, snuggle up with a blanket and let the movie roll!
Vanellope Inspired Candy Bark
This sweet treat is perfect for your Ralph Breaks the Internet snacking needs!
Servings
8
people or more
Ingredients
12

oz

turquoise candy melts

4

oz

pink candy melts

1

box

Juju Bees

1

bag

Haribo gummy bears

small bag

sprinkles of your choice
Instructions
Melt the turquoise candy melts according to the instructions on the bag

Pour melted turquoise candy into an 8 x 10 baking dish that you've lined with parchment paper

Melt the pink candy melts according to the instructions on the bag

Drizzle the melted pink candy on the turquoise

Add as many or as few gummy bears and Juju Bees as you want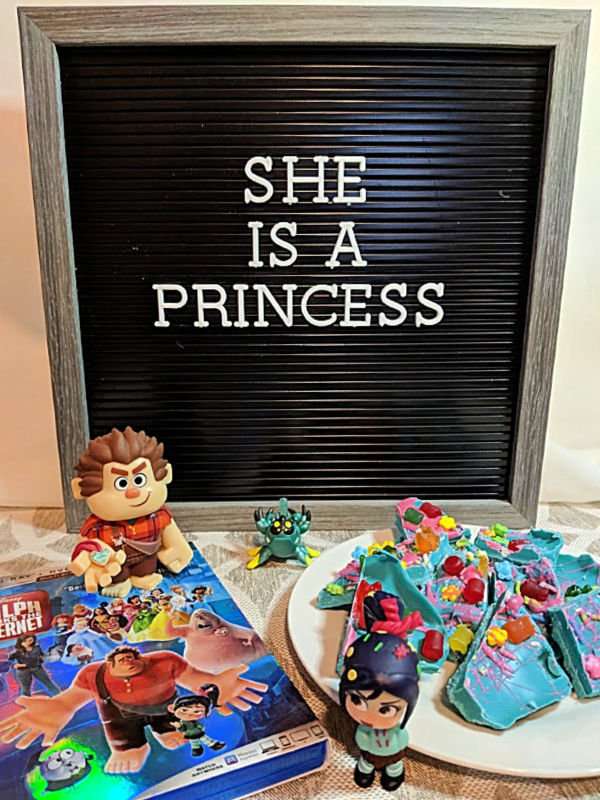 Watch the movie while you lounge around
When you're lounging around like a comfy princess, you want a fun movie to watch. Of course, you need to watch RALPH BREAKS THE INTERNET!
Walt Disney Animation Studios' RALPH BREAKS THE INTERNET, the animated adventure featuring video-game bad guy Ralph and fellow misfit Vanellope von Schweetz, raced to No. 1 opening weekend (the second biggest Thanksgiving opening of all time), winning the top spot at the domestic box office for three consistent weeks and grossing more than $435.1 million to date. In the hilarious, high speed sequel to 2012's Oscar®-nominated "Wreck-It Ralph," the besties risk it all by traveling to the expansive, fast-paced world of the internet in an action-packed attempt to save Vanellope's game Sugar Rush.
Bonus features
The in-home versions of the movie have lots of fun bonus content!
Blu-ray & Digital:
How We Broke the Internet –Go behind the scenes at Walt Disney Animation Studios to get an in-depth look at how the filmmakers brought a world to life that billions of people visit every day but never actually see – the internet. Take a front-row seat as the team reveals the inspirations for the story and what it took to bring it to the screen. Discover all that went into developing the characters of the film including netizens like KnowsMore as well as characters like Double Dan. See the lengths the team took to create the car chase scenes in Slaughter Race and much, much more.
Surfing for Easter Eggs – Surf the web for the near-countless Easter Eggs, inside jokes and references hidden throughout the movie.
The Music of Ralph Breaks the Internet – Take a look at the music of RALPH BREAKS THE INTERNET with appearances by Imagine Dragons, Julia Michaels, Alan Menken, Sarah Silverman and more.
Deleted Scenes – Five deleted scenes with intros from directors Rich Moore and Phil Johnston. Scenes include Into the Internet, Opposites, Domestic Hell, Bubble of One & Recruiting "Grandma."
BuzzzTube Cats – Many videos were created by the animators to fill the screens of the Internet world…and lots of them are of cats! Check out the BuzzzTube to watch this hilarious cat compilation.
Music Videos – "Zero" by Imagine Dragons and "In This Place" by Julia Michaels.
Digital Exclusive:
Baby Drivers – Slaughter Racing School – Take a spin behind the wheel with the artists behind RALPH BREAKS THE INTERNET as they go to race car driving school.
DVD:
Music Videos – "Zero" by Imagine Dragons and "In This Place" by Julia Michaels.
My favorite bonus features
You already know my favorite scene is the comfy princesses scene, but here are some of the bonus features I like the best.
The can't miss deleted scenes are Domestic Hell and Recruiting "Grandma". I really wish they'd kept those in, but at least you can see them now!
BuzzzTube Cats is one of my favorites because, uh, cats!
I also love Surfing for Easter Eggs. When the first trailer for RALPH BREAKS THE INTERNET came out, I shared some of the Easter Eggs I noticed in the trailer in this post. You could watch the movie dozens of times and still not find them all! Remember how I got to interview Disney Animator Mark Henn? He's responsible for several of the Easter Eggs including Mickey Mouse on top of the sorcerer's hat.
Ralph Breaks the Internet Toys
Make sure you go to my toy guide! They aren't just for kids either. If you collect Funko Pops or Rock Candy Funko, you're going to want to see what's available! Belle and Mulan are pictured below. Elsa and Snow White are from the blind boxes. Aren't they all adorable?
Here's the list comfy princesses that you can buy! Get them while you can!
Ralph Breaks the Internet Activity Pages
Download these FREE fun activity pages for more lounging around fun!
Ralph Breaks The Internet Activity Sheets
Pin for later
Ralph Breaks The Internet Movie Review Plus Free Coloring Pages and Activities