When you recommend a restaurant to your friends, what are the reasons for your recommendations? Of course, the quality of the customer service and good food are probably the most important reasons you suggest a particular restaurant. But, the ambiance of a restaurant can make or break it. It should feel inviting. You wouldn't send your friends to a crowded, bland, boring restaurant. It's got to have great ambiance, and a restaurant's interior décor plays a big part in the feel of a place. Customers want to be comfortable and relaxed while enjoying their meals. 
Restaurant owners need to keep these things in mind, or they won't succeed.
10 Interior Decor Ideas for Restaurants
1. Seating capacity
To make the interior of a restaurant comfortable and relaxing you need to concentrate on seating capacity. Some restaurants pack in more customers for profit, but remember that the ambiance and customers' comfort is crucial for repeat business. Try to concentrate more on the ambiance than on "packing them in". Though you might not consider this an interior design idea, it really is. Providing a comfortable feel makes the place seem bigger, and customers will be more apt to return.
2. Feature plants
Adding a few plants to a restaurant's interior is a great way to update any décor. Owners can opt for fake outdoor plants since they need less maintenance. This makes it easy to change artificial plants seasonally or for special events. It also makes the interior of the restaurant colorful and bright when you use different types of plants. 
3. Artwork
The interior of a restaurant should not only have "restaurant" elements. It should feel unique. A variety of artwork including paintings, photos, and sculptures. I'm sure you've been to themed restaurants like the Hard Rock Cafe where they have tons of things hanging around. This makes a place so much more interesting. By choosing a theme, a restaurant can really stand out. 
One of the restaurants I've been to that has amazing artwork both outside and in is Pinstripes.
4. Lighting
The room size should be taken into account when it comes to lighting, and opting for appropriate lighting is necessary. If there are big windows in a restaurant, then natural lighting would be best. Another way lighting can be a great or awful interior design choice is what fixtures a place uses. The lighting should fit the type of restaurant: trendy light fixtures, candles, industrial type Edison bulbs…these are all great choices depending on a restaurant's theme.
5. Colorful interiors
Usually the first thing you notice when you walk into a restaurant is the appearance. Colorful interiors can grab your attention, but if you're looking to relax, you don't want the walls painted neon green like you might expect at a juice bar.  A polished look and appropriate colors are crucial elements in restaurant interiors.
6. Mirrors
Interior spaces look larger when the light is reflected. A lot of restaurants use mirrors to reflect light in different ways. The mirror style and size, should again fit the theme of the restaurant. 
7. Variety of seating options
When a restaurant has a unique seating option, it stands out from the rest. There are many unique seating options such as stools, tables (high and low) and booths. A trendy, eclectic place might make their chairs a highlight would be different styles and colors of chairs at the same table. The tables would be different from each other. A cohesive theme would fit an upscale place better. It all depends on what a place's target demographic is.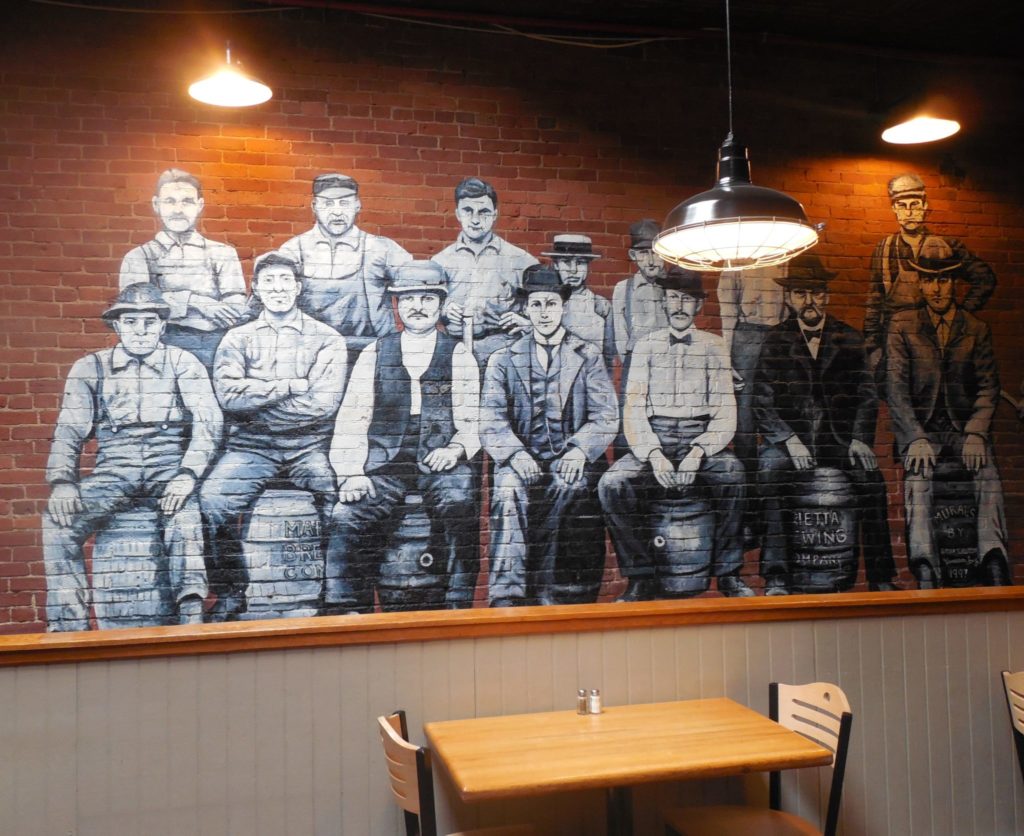 8. Know the history
A restaurant may have its own history, and it would be a good to put some research into that history and share it with diners. Posters, decorative items, and photographs highlighting the history really make a place stand out. 
9. An oversized plant
There are plenty of artificial trees for outdoor use. Having one large tree or plant inside makes a great focal point. A tree can totally change the look of a place. 
10. A cohesive theme
I've already mentioned some themes, but here are a couple more examples. Some restaurant owners love cars, so everything inside is related to cars and their parts. Other themes include outer space, cartoons, bikes, fishing, music, etc. Themes make a restaurant stand out in the crowd.
More things restaurant owners should keep in mind for a restaurant's interior
Interior décor
There are tons of ideas for restaurant interior décor. Ideas can be found on websites, books, magazines, and good friends. Restaurant interior décor requires good planning and out of the box thinking to make it unique. The basics  (colors, seating, accessories) are great places to start, but all of the little details are what makes a restaurant stand out. This leads to my next point.
Be unique
Unique stands out. Shelves full of books or oil cans or purses, an old collection of stones, watches, pearls, cutlery, maps, car parts…these could all be used in a restaurant depending on its theme. When you think out of the box, your restaurant will stand out from the rest.
Artificial trees and plants
Placing artificial trees and plants has been the latest trend today in all places. Restaurants, commercial buildings, corporate offices, malls etc. often opt for installing artificial gardens, waterfall walls, trees, flowers, and plants. This is because artificial elements need less maintenance, and they look fresh all the time. The durability and quality are lifelong, and installation services are usually available. Browse through different buildings and see how they use artificial plants. You never know where your next idea will come from.
Apart from providing installation services, companies that provide artificial plants can usually custom design any greenery you want for your place. Qualified professionals plan, design, and manufacture these items. You can leave the plant planning to them while you focus on different elements of your interior and exterior décor.
These are a just few ideas for a restaurant's interior décor. There are lots of ideas available online too. Hello, Pinterest! You can mix these ideas with your creativity to make the restaurant look the best. If you are thinking of opening your own restaurant or renovating one you own, take all of these ideas and use the ones that resonate with you.
You'll find that more customers opt for your restaurant because of its different look and feel…and, of course, the food! And more customers means more profit. If you've got a restaurant, I'd love to see it! Feel free to contact me by email in my work with me section. I love seeing photos, and if I'm close enough, I'd love to visit!