Welcome to the Hocus Pocus Giveaway Hop! I've got 2 cute board books that I'm sharing with you today: Yum Yummy Yuck by Cree Lane and Amanda Jane Jones and Anne of Green Gables: A Baby Lit Book by Jennifer Adams and Alison Oliver. You can enter both of these below!
Thanks to our host, MamaTheFox.
Yum Yummy Yuck
by Cree Lane and Amanda Jane Jones
Prestel Junior
9/17/2019
Board Book
$9.95
Ages 1-3
30 pages
In their hip and often humorous Instagram accounts, Amanda and Cree Jones invite the world into their life with two young kids. Now, the Joneses are sharing another experience–the struggle to keep their kids from putting everything they see into their mouths.
Using simple, bright illustrations, irresistible colors, gentle repetition, and a lighthearted tone, this stylish board book teaches babies and toddlers what they should and shouldn't put in their mouths.
Delectable treats like an ice cream cone, a pear, and a donut are interspersed with not-so-yummy things kids find irresistible–like coins, boogers, and sand. Facing pages display the correct use of these items– boogers go in tissues, coins in a piggy bank, and sand in a bucket.
Designed to appeal to modern parents, this durable and attractive book will have kids and their parents going back to it and sharing in the fun of all the delicious and disgusting things kids like.
My review
This book is so simple, yet it's so cute. It's perfect to share with those little ones who love putting everything in their mouths! Some of those things are yummy, but others are yucky! I think it's the perfect board book to teach your kids not to eat band-aids….or sand…or other gross things!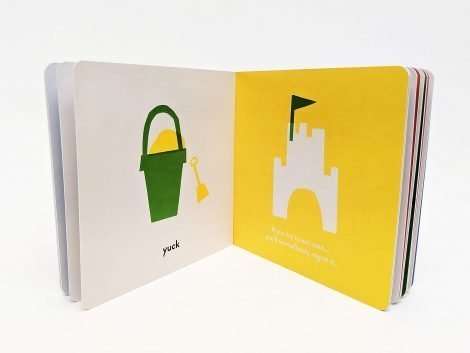 About the Authors
AMANDA JANE JONES is a graphic designer, art director, and was the founding designer and co-creator of Kinfolk, a quarterly lifestyle magazine. She is married to co-author CREE LANE JONES, a Harry A. Bigelow Teaching Fellow at the University of Chicago Law School. Amanda and Cree live in Chicago with their two children, Jane and Miles. Their Instagram accounts have a combined 175,000 followers and counting.
Anne of Green Gables
by Jennifer Adams and Allison Oliver
Gibbs Smith
Aug 21, 2017
Board Book
22 pages 
Introduce little ones to beloved redheaded orphan Anne Shirley in Anne of Green Gables: A BabyLit® Places Primer. as they explore Prince Edward Island and the places that Anne loves. Jennifer Adams and Alison Oliver, with their words and bright illustrations, introduce toddlers to Anne's home and her favorite pond, wood, field, garden, and the avenue to Avonlea. This delightful board book will captivate your brainy baby's imagination, and yours.
My review of Anne of Green Gables A BabyLit Places Primer
As an Anne of Green Gables fan, I was excited to see how this classic novel translated into a board book for babies. I love that it (as well as the other books in the BabyLit series) introduce even the littlest of children to classic literature. The text and drawings are simple, yet they stay true to Prince Edward Island and Anne Shirley. I highly recommend this board book!
Visit BabyLit online to find this and many more adorable books!
Praise for BabyLit
"Babies and toddlers are treated to board books that are miniature works of literary art." The New York Times, October 26, 2013
"Graphically the entire series is stunning. The illustrations reflect the character of the original works." Wired Magazine, May 14, 2012
About the Author and Illustrator
Jennifer Adams is the author of many books including Remarkably Jane: Notable Quotations on Jane Austen and the popular Edgar the Raven series. Jennifer works as a writer and editor in Salt Lake City, Utah.
Allison Oliver runs Sugar design studio. Alison's design portfolio includes everything from logos to packaging and product design for clients such as Chronicle Books, Citibabes, and Aerie. She lives in New York.
Enter the giveaway
One follower will win the Anne of Green Gables and Yum Yummy Yuck board books. This giveaway is open US only to ages 18+. This giveaway is void where prohibited. By entering this giveaway, you're agreeing to the privacy policies of this blog. Entrants need a profile picture on their social media accounts from which they're entering, or entry will be void. The winner has 48 hrs. to claim the prize or another winner will be chosen.
MamatheFox and all participating blogs are not held responsible for sponsors who fail to fulfill their prize obligations.