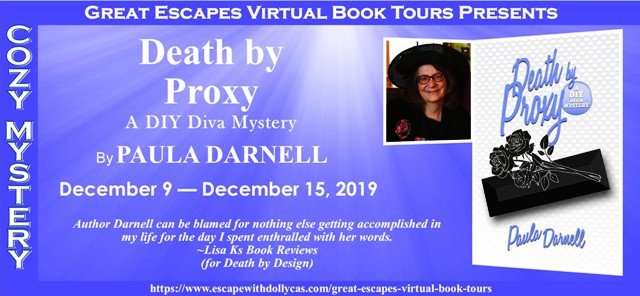 Death by Proxy: A DIY Diva Mystery
by Paula Darnell
This post contains affiliate links. If you make a purchase, I may receive compensation at no cost to you.
Death by Proxy: A DIY Diva Mystery
Cozy Mystery
3rd in Series
Cozy Cat Press (November 2019)
Print Length ~220 Pages
With preparations for her upcoming wedding to handsome Wes Wesson, a Center City police lieutenant, on track and her DIY Bridal Crafts class at Hawkeye Haven's community center wrapped up, DIY Diva Laurel McMillan looks forward to a calm pre-nuptial week to finalize her wedding plans. There's only one problem: the week turns out to be anything but calm.
Laurel and Wes narrowly escape being run down in the parking lot of their favorite restaurant. Laurel's bridal shower is interrupted by a mysterious stranger who sends Laurel's lovable chocolate Labrador retriever Bear into a frenzy, and when Laurel and Wes go to meet Lisa, their real estate agent, at a house she promised to show them, they discover Lisa's sister's body floating in the pool.
Strangely, Lisa seems more concerned with selling houses than she does with her sister's death. After Lisa's mother inadvertently reveals family secrets, Laurel wonders whether Lisa could have killed her own sister. Will the mayhem and murder stop before Laurel discovers the key to the killer's game plan?
Guest post from Paula Darnell
All three of the DIY Diva cozy mysteries feature Laurel McMillan, a 38-year-old redhead who has successfully turned her crafting hobby into a full-time job, so she's crafty not only because she solves mysteries but also because she loves crafts. Each book in the series includes instructions for a couple of craft projects, based on what Laurel is working on during the story. Since in Death by Proxy, she's planning her own wedding, winding up a bridal crafts class she's teaching, and writing her latest book, DIY Bridal Crafts, I included project instructions for a basic birdcage veil in Death by Proxy.
How to Make a Birdcage Veil
Cute, retro-style birdcage veils are most often worn for weddings, but they can be worn on other special occasions, too, since French veiling is available in a wide range of colors. The only tools needed are all-purpose craft glue, a measure, needle, thread, pins, and scissors.
There are many ways to secure a birdcage veil in the hair. For this method, we're going to use a headband wrapped with embroidery thread. There are hundreds of colors of embroidery thread, which makes it easy to match the color of the headband to your hair or to match it to the color of the veiling, whichever you prefer.
Materials
15 inches of 9-inch width French veiling
1 skein embroidery thread
1 metal headband
Cover the headband with embroidery thread (use all six strands) by attaching the ends of the thread to the inside end of the band. Tightly wrap it, making sure all the metal is covered. End at the center top and glue in place. Cut ends neatly.
Repeat the process from the other end of the headband to cover the entire headband.
Lay French veiling flat and make a point two inches below the center top. Mark with a pin.
Thread the needle with thread to match the color of the headband. Secure the end of the thread to the veiling about one half inch from the bottom on one side. Going straight up, run a gathering stitch about three inches and then curve it over to end in the center. Leave a thread tail to gather the veiling later.
Repeat step 4 on the other side of the veiling.
Pin the lower edges of the veiling to the headband three inches from the ends of the headband. Pin the center top of the veiling to the center top of the headband.
Gently gather and adjust gathers along the headband and pin the veiling in place to the headband. Make sure the veiling is securely pinned before removing the gathering threads.
Sew the veiling to the headband with a tiny running stitch, making sure it's secure all along the headband.
Carefully trim the excess veiling from the side of the headband, making sure not to cut the stitching.
Optional: add a decorative silk or feather flower to the side of the headband and stitch in place.
There are many ways to make variations of a birdcage veil. Here's a picture of a white bridal veil I made.
I attached the veil to a vintage floral and pearl piece with a comb, rather than a headband. You can see more pictures of this veil from different angles in my Etsy shop – https://www.etsy.com/listing/605027727/white-bridal-birdcage-veil-with-hair.
About the author of Death by Proxy
An instructor at five colleges over the years, Paula Darnell most often taught the dreaded first-year English composition classes. But she's also been happy to teach some fun classes, such as fashion design, sewing, and jewelry making. Paula has a Bachelor's degree in English from the University of Iowa, Iowa City. She has a Master's degree in English from the University of Nevada, Reno.
Like Laurel, the main character in Death by Association, Paula enjoys all kinds of arts and crafts. Some of her memorable projects include making a hat and a cape to wear to Royal Ascot, sewing wedding gowns for both her daughters, and exhibiting her textile and mixed-media artwork in juried art shows. Furthermore, she's had one of her jewelry projects accepted for inclusion in Leather Jewelry, published by Lark Books. She sells some of her jewelry and hair accessories in her Etsy shop: www.etsy.com/shop/PaulaDJewelry.
Paula's interest in DIY craft projects and fashion led to her writing hundreds of articles for print and online national publications.
Living in a guard-gated community governed by a homeowners' association gave Paula the idea for the setting of Death by Association. She finds that residing in an HOA community can be both a blessing and a curse. A Happy-New-Year greeting from her community association called on residents to "start the new year by reviewing your Rules and Regulations booklet," something unlikely to top anyone's list of New Year's resolutions.
Paula lives in Las Vegas, Nevada, with her husband Gary and their 110-pound dog Rocky, whose favorite pastime is lurking in the kitchen, hoping for a handout.
Follow Paula 
Website | Twitter | Goodreads | Pinterest | Etsy shop 
Enter the giveaway ENDED
Giveaway ends 12/15
Follow the tour for more
December 9
A Wytch's Book Review Blog – REVIEW, CHARACTER INTERVIEW
MJB Reviewers – SPOTLIGHT
December 10
My Reading Journeys – REVIEW
Hearts & Scribbles – RECIPE
December 11
I Read What You Write – REVIEW
Literary Gold – SPOTLIGHT
December 12
Celticlady's Reviews – SPOTLGHT
Christy's Cozy Corners – GUEST POST
December 13
Carla Loves To Read – REVIEW
Diane Reviews Books – GUEST POST
December 14
Sneaky the Library Cat's Blog – CHARACTER INTERVIEW
My Journey Back – AUTHOR INTERVIEW
December 15
Cozy Up With Kathy – SPOTLIGHT
Readeropolis – SPOTLIGHT