Welcome to the Prism Books Tour for Her Cowboy Sweetheart (The Sweetheart Ranch #4) by Cathy McDavid. Stop by each blog for excerpts and reviews from the book!

On Tour with Prism Book Tours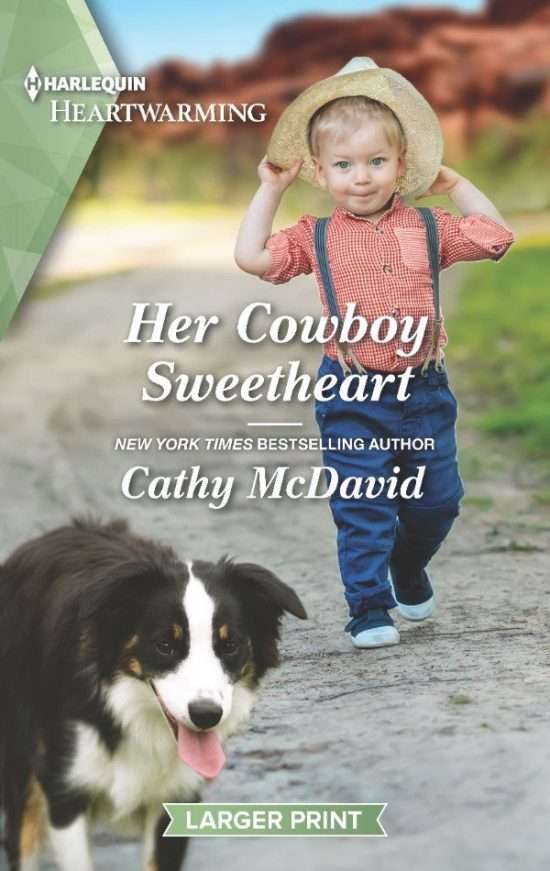 I received this book free to review; however, all opinions are my own. This post contains affiliate links. If you make a purchase, I may receive compensation at no cost to you.
Her Cowboy Sweetheart
(The Sweetheart Ranch #4)
By Cathy McDavid
Contemporary Romance
Paperback & ebook, 384 Pages
May 5th 2020 by Harlequin Heartwarming
He's been a good friend
But can he be her sweetheart?
At Sweetheart Ranch, single mom Carly Leighton finds a fresh start, and a friendly neighbor in former bull rider JD Moreno. Neither are looking for love—Carly must think first of her son, Rickie, while JD is recovering from a career-ending balance disorder. But when her former in-laws demand access to Rickie, Carly turns to JD for support and finds he is becoming more than a friend in need…
(Affiliate links included.)
Amazon | B&N | Walmart | Target | Book Depository
BAM | IndieBound | iBooks | Kobo | GooglePlay | Harlequin Print
My review of Her Cowboy Sweetheart
Her Cowboy Sweetheart is the fourth book in The Sweetheart Ranch series, but you definitely do not have to read these in order! You'll enjoy this book just as much if you just jump in here. The Sweetheart Ranch books all revolve around the wedding business and horses, of course!
The main characters in Her Cowboy Sweetheart are ones that I really enjoyed getting to know. They've both got issues holding them back from serious relationships, but when you know you've found the one, you just know! I really liked Carly. She's a single mom working two jobs to support herself and her toddler. Carly is a very caring and strong character. She was victim of spousal abuse, yet she doesn't feel sorry for herself. This girl is driven, and she's got goals.
Carly's tie to The Sweetheart Ranch is the gift shop. She runs this shop that sells things like cake toppers, candles, garters…little things you might need for your wedding. Carly designs and creates jewelry for horses in her "spare" time. Her jewelry business takes her to the horse side of The Sweetheart Ranch since she likes to photograph her pieces with actual horse models. Being in the barns is how Carly becomes acquainted with JD.
JD suffers from Meniere's disease which is a balance disorder. He had to leave the career he loved, bull riding, yet find a way to stay connected to his passion. He and Carly connect in a way neither of them expected. With their past and present issues, they feel that being friends is best. But like I said, when you know you know.
I enjoyed how the romance developed in Her Cowboy Sweetheart. The author brought conflict into the book for the characters as individuals and together. I love how they draw strength from each other.
This a very sweet and inspiring book, and I think you'll enjoy it.
Other Books in the Series
(Book covers linked to Amazon affiliate links.)
Read my reviews of the first and third books:
About the Author
As a sophomore in high school, NY Times, USA Today, and Amazon bestselling author Cathy McDavid won a local writing competition with her self-illustrated children's book. Who knew that small triumph would eventually lead to a career writing contemporary romances with over 1.3 million books sold? With forty-seven titles to date, Cathy is also a member of the prestigious Romance Writers of America's Honor Roll. This "almost" Arizona native and mother of grown twins recently married her own real-life sweetheart. After leaving the corporate world four years ago, she now spends her days penning stories about good looking men who ride the range or fight fires or hunt creatures all while sweeping the girl off her feet. It's a tough job but she's willing to make the sacrifice.
Website | Goodreads | Facebook | Twitter | Instagram | BookBub | Amazon
Tour Schedule
Enter the giveaway ENDED
One winner will receive a $10 Amazon gift card, $5 Starbucks gift card, author swag, and either a print or Kindle copy of THE COWBOY'S PERFECT MATCH
(US only – if outside the US winner will instead receive a $15 Amazon e-gift card and a Kindle copy of THE COWBOY'S PERFECT MATCH).
Ends May 13, 2020