Welcome to the Great Escapes Virtual Book Tour for Trick or Thief: A Humorous Culinary Cozy Mystery Short Read (Death by Cupcake) by D.E. Haggerty. Stop by each blog on the tour for interviews, guest posts, spotlights, reviews and more!
A little haunting sounds like innocent fun until a ghost plunders your stockroom.
Trick or Thief: A Humorous Culinary Cozy Mystery Short Read (Death by Cupcake)
by D.E. Haggerty
I received this book free to review; however, all opinions are my own. This post contains affiliate links. If you make a purchase, I may receive compensation at no cost to you.
Trick or Thief: A Humorous Culinary Cozy Mystery Short Read (Death by Cupcake)
Cozy Mystery
6th in Series
Independently Published
Digital – 120 pages
Kristie is convinced ghosts don't exist until food starts disappearing without a trace from the Youth Center storage. There are zero clues as to who's been inside the building. The security guard hasn't seen a thing, and the security tapes are mysteriously blank. When the ghost widens his hocus-pocus to include Kristie's office, the gals of Callie's Cakes jump in to find the culprit before Kristie can get in a whole mess of spooky trouble.
Will the gals of Callie's Cakes expose the ghost before Kristie's facility is destroyed?
Cupcakes not included, although recipes for all the delicious cupcakes Anna bakes are.
My review
I enjoy reading holiday themed cozy mystery books, and Trick or Thief helped me get in the mood for Halloween. Though I've not read the other books in the Death by Cupcake series, I enjoyed this short Halloween story. Since it's a quick read, there's not a lot of insight into the characters, but you can quickly figure out the dynamics of the relationships. If you've read the series, I'm sure you already know a lot about the characters!
The mystery isn't a murder…in this case, it's burglary! But the only things that go missing are bread and peanut butter. Well, once that little mystery is wrapped up, we find out that it's tied to something a bit more sinister.
I thought that the Halloween party was cute, and I admire Kristie's determination in working with at risk youth. This is a charming, quick read, so if you're in the mood for Halloween, give Trick or Thief a read!
Guest post
A Day in the Life of DE Haggerty
Life isn't exactly typical at the moment. Not with corona running around ruining people's livelihoods or worse. Corona virus is certainly not the nice virus of the family. No, she's the black sheep who is out for vengeance. Scary.
I thought I'd share what a typical writer's day in the time of corona looks like.
It starts out pretty awesome. I usually crawl (slight exaggeration) from my bed to my office two doors down where I stare at the computer until my eyes start working. I have several different pairs of glasses (reading glasses, computer glasses, everyday multifocal glasses) and I switch these on and off thinking it's the glasses fault I can't see. Sure, it is.
Once I'm settled and manage to get my computer started – fingers crossed it starts because it is finicky as all get out – my favorite part of the day arrives. The moment the hubby brings me a huge coffee. Sigh. Ain't he sweet? I think I'll keep him.
And now it's time to get to work. I start my morning by quickly checking social media. And I do mean quickly. Social media is a black hole. If you don't watch it, you will disappear completely and pop back to life hours later wondering where the heck those hours disappeared to. Yikes.
A few hours later, my writing assistant (aka Hunter the dog) makes his presence known. He can sleep all the livelong day on the chair I bought him for my office, but the moment he decides it's walky time, it is walky time!
This is the part where I admit to some changes in my life since corona. *Cringes* I may actually not get entirely dressed to walk the dog. I mean, I put on clothes on and all, but my 'corona attire' consists of leggings and more leggings. And, okay, I may have bought even more as well.
After Hunger's walk, he retires to his chair for a three-hour nap while I return to writing. Since the hubby is mostly working at home, I actually take a break from the computer for lunch. It's weird being away from the keyboard during the day, but it's kind of cool, too. There's a whole other person in the house who I can talk to who talks back, because the dog doesn't not talk back. In fact, he gives me strange looks like I'm a weirdo or something when I talk to him. I'm not. Really, I'm not.
I usually finish writing around 2 p.m. After 2 p.m. my brain is totally fried, but it's not time to call it quits yet. Nope. It's time for the fun that is marketing. Yeah, it's no fun. Normally, I spend three or so hours on marketing. Basically, until my eyes refuse to focus on the computer any longer.
And that is a day in the life of DE Haggerty. A bit monotonous these days thanks to Corona. Thank goodness I mostly live inside my head.
Thank you for giving us this look into your daily life during corona!
About D.E. Haggerty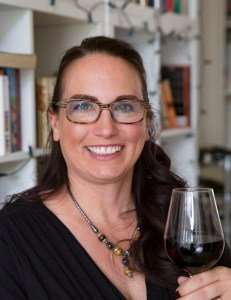 D.E. Haggerty is actually just plain old Dena, but she thinks using initials makes her sound sophisticated and maybe even grown up. She was born and raised in the U.S. but considers herself a Dutchie and not only because it sounds way cooler. After a stint in the U.S. Army, she escaped the US to join her husband in Holland. She fled Holland over ten years ago when she couldn't stand the idea of being a lawyer for one single second more. Turns out Bed & Breakfast owner in Germany didn't do it for her either. When the hubby got a job in Istanbul, she jumped ship and decided to give this whole writer thing a go. She's now back in Holland, which she considers home. Sorry, Mom.
Author links
Website: http://dehaggerty.wordpress.com
Blog: https://dehaggerty.wordpress.com/category/mymusings/
Facebook: https://www.facebook.com/dehaggerty
Twitter: https://twitter.com/dehaggerty
Instagram: https://www.instagram.com/dehaggerty/
Goodreads: https://www.goodreads.com/author/show/7210211.D_E_Haggerty
Amazon author page: http://www.amazon.com/D.E.-Haggerty/e/B00ECQBURU/
Newsletter signup: https://mailchi.mp/027b2768aa1c/newsletter-sign-up-for-a-writers-life-by-de-haggerty
Pinterest: http://www.pinterest.com/denahaggerty/
Bookbub author page: https://www.bookbub.com/profile/d-e-haggerty
LinkedIn: https://www.linkedin.com/in/d-e-haggerty-4b49a29/
Enter the giveaway ENDED
Trick or Thief Tour Participants
August 20
I Read What You Write – REVIEW, CHARACTER GUEST POST
I'm All About Books – SPOTLIGHT
August 21
Nadaness In Motion – REVIEW  
Hearts & Scribbles – SPOTLIGHT
August 22
Paranormal and Romantic Suspense Reviews – SPOTLIGHT
August 23
Christy's Cozy Corners – REVIEW, GUEST POST
August 24
Celticlady's Reviews – SPOTLIGHT
August 25
FUONLYKNEW – SPOTLIGHT
Readeropolis – SPOTLIGHT
August 26
Reading, Writing & Stitch-Metic – SPOTLIGHT
August 27
Books to the Ceiling  – GUEST POST
August 28
MJB Reviewers – SPOTLIGHT
My Reading Journeys – REVIEW
August 29
Here's How It Happened – SPOTLIGHT
August 30
Literary Gold – SPOTLIGHT
Rosepoint Publishing – REVIEW
August 31
Socrates Book Reviews – SPOTLIGHT
September 1
Thoughts in Progress – SPOTLIGHT
ebook addicts – REVIEW
Reading Authors Network – SPOTLIGHT
September 2
Gimme The Scoop Reviews – RECIPE
Baroness' Book Trove – REVIEW
Have you signed up to be a Tour Host?
Click Here Find Details and Sign Up Today!