Welcome to my stop on the Great Escapes Virtual Book Tour for Deadly Travel: A World War II Mystery (The Deadly Series) by Kate Parker. Stop by each blog on the tour for interviews, guest posts, spotlights, reviews and more!
Travel to Berlin in 1939 is treacherous. Carrying out two clandestine missions in the enemy capital could prove deadly.
Deadly Travel: A World War II Mystery (The Deadly Series)
by Kate Parker
Deadly Travel: A World War II Mystery (The Deadly Series)
Historical Cozy Mystery
5th in Series
Publisher: JDP Press (September 28, 2020)
Number of Pages 320
When a Quaker Kindertransport chaperone is murdered in the East End of London, Britain's counterintelligence spymaster tasks Olivia Denis to join the group rescuing children from Nazi Germany. Olivia must find not only a killer, but a traitor relaying sensitive material to the enemy.
Once they reach Berlin, Olivia discovers she must rescue the family of an imprisoned British spy before she leaves the next day. An attack convinces Olivia the family's two young sons are in grave danger, but where to hide them?
Can she protect the boys before they become the traitor's next victims?
Deadly Travel, Book Five of the Deadly series, is for fans of World War II era spy thrillers and classical cozy mysteries, of intrepid lady sleuths with spunk and smarts. No explicit cursing, sex, or violence.
Continue your journey today into Olivia's world of intrigue in London in the days leading up to war.
My review of Deadly Travel
Deadly Travel is the second book I've read by Kate Parker, and I enjoyed it just as much as her book Murder at the Marlowe Club. Though these two books are from different series and time periods, they're both historical cozy mystery books, and that's a sub-genre I adore. This series is set during WWII, and stars Olivia Denis whom you will love! She's smart, funny, kind, spunky, and resourceful.
Sometimes it's hard jumping into a series several books in. That's not the case with Deadly Travel. The story is well-crafted and exciting enough to make you feel as if you are reading a stand-alone book. It irritates me when an author tries to "catch you up" on what's happened prior to the book you're reading. Parker doesn't have to catch you up since her skillful writing makes you feel as if you already know who's who and what's what.
Deadly Travel has a wide variety of characters with captivating personalities. Trying to figure out whodunit is tough since the murderer is talented at disguising their true nature. Olivia, the main character, is my favorite, and that's not always the case when I read books. Sometimes a character with just a tiny part is my favorite! I realize I haven't read the other books in the series and don't know everything about Olivia. However, in Deadly Travel, I envisioned her as a (sometimes) subdued version Hildy Johnson in His Girl Friday. (If you haven't watched His Girl Friday, get on it!)
If you enjoy historical cozy mysteries (especially those set in the WWII era), you need to read Deadly Travel! You'll quickly become attached to many of the characters in this delightful book. The exciting, face-paced plot will keep you flipping the pages! I highly recommend it!
About Kate Parker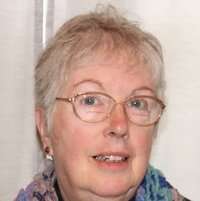 Kate Parker caught the reading bug early, and the writing bug soon followed. She's always lived in a house surrounded by books and dust bunnies. After spending a dozen years in North Carolina, she moved to Colorado. The Rocky Mountains are beautiful, but she'd developed a love of wide rivers, warmer and wetter weather, and fast-growing greenery that sent her hurrying back to North Carolina.
Deadly Travel is the fifth book in the Deadly Series, and Kate's plan is to follow it quickly with Deadly Darkness, both set in 1939 in the days leading up to war. There are at least three more of the Deadly Series coming that will bring the beginning of the war to Olivia's doorstep. Kate reports that she is having fun creating new stories to entertain readers and chaos to challenge her characters.
Author Links
www.Facebook.com/Author.Kate.Parker/
https://www.bookbub.com/authors/kate-parker
www.goodreads.com/author/show/7123001.Kate_Parker
Purchase Links – Amazon – B&N – Kobo 
Enter the giveaway
Tour Participants
October 5
e-Book Addicts – SPOTLIGHT
Hearts & Scribbles – SPOTLIGHT
October 6
I'm All About Books – SPOTLIGHT
October 7
Literary Gold – CHARACTER GUEST POST
Readeropolis – SPOTLIGHT
October 8
Christy's Cozy Corners – REVIEW
October 9
I Read What You Write – GUEST POST
October 10
Reading, Writing & Stitch-Metic – CHARACTER GUEST POST
MJB Reviewers – SPOTLIGHT
October 11
Diane Reviews Books – REVIEW
Storeybook Reviews– SPOTLIGHT
October 12
FUONLYKNEW – SPOTLIGHT
October 13
Cozy Up With Kathy – REVIEW, GUEST POST
October 14
Maureen's Musings – REVIEW
The Pulp and Mystery Shelf – AUTHOR INTERVIEW
October 15
Books a Plenty Book Reviews – REVIEW, CHARACTER INTERVIEW
Elizabeth McKenna – Author – SPOTLIGHT
October 16
Ascroft, eh? – AUTHOR INTERVIEW
View from the Birdhouse – SPOTLIGHT
Here's How It Happened – SPOTLIGHT
Have you signed up to be a Tour Host?
Click Here Find Details and Sign Up Today!