Welcome to the Thanks a Latte Giveaway Hop! I'm very thankful for all of you! You help keep me motivated to share more giveaways! This time I've got 4 fun Halloween books that you and the kids in your life will love!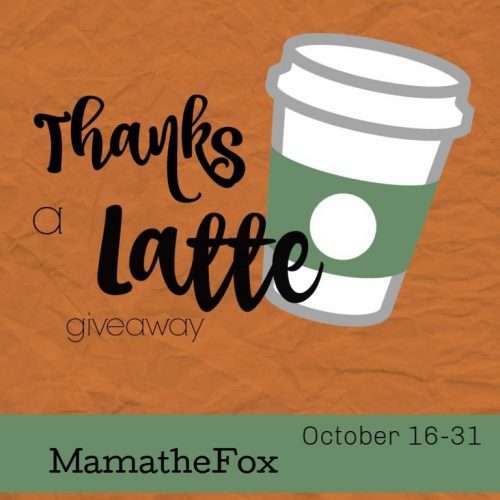 Thanks to our host, MamatheFox
Monstrously Fun and Weird Halloween Books
I received this book free to review; however, all opinions are my own. This post contains affiliate links. If you make a purchase, I may receive compensation at no cost to you.
It's Halloween Little Monster
"Told in rollicking rhymes, the story delivers humorous, not-too-scary chills for the youngest readers. …Treat little ones to this sweet, entertaining holiday story." —Kirkus Reviews
It's Halloween, Little Monster
by Helen Ketteman and illustrated by Bonnie Leick
Grade Level : Preschool – 2
Hardcover : 32 pages
Publisher : Two Lions; Illustrated Edition (July 7, 2020)
Reading level : 3 – 7 years
Little Monster is going trick-or-treating for the very first time. There are going to be all kinds of creatures and lots of spooky noises too! Papa is there to help guide him through his fears as they encounter one scary thing after another…until they reach the last house of the night. It's the spookiest house of all, and—YIKES!—there might be a surprise waiting for them. Will Little Monster be brave?
My review
It's Halloween, Little Monster is an adorable Halloween book! New experiences are scary…even for little monsters!
This story will help your children see that new things don't have to be scary. I love how the illustrator portrays the other monsters who are trick-or-treating. They look happy and excited, so your little monsters can see that just because an experience is new doesn't mean it has to be frightening. I think you love reading this Halloween book with your kids!
About the creators of It's Halloween, Little Monster
Helen Ketteman has written twenty-seven books for children, including the popular Little Monster books, illustrated by Bonnie Leick, and At the Old Haunted House, illustrated by Nate Wragg. Her books have received numerous awards and accolades. She lives with her husband on Sanibel Island, Florida.
Learn more at www.helenketteman.com.
Facebook: Helen Ketteman
Bonnie Leick creates books and animated projects for children. She is the illustrator of thirteen books for children, including the popular Little Monster books, written by Helen Ketteman, and Baby Bear Eats the Night, written by Anthony Pearson. She lives in Sister Bay, Wisconsin, with her husband and their two French bulldogs.
Learn more at www.bonnieleick.com.
Facebook: Goodnight, Little Monster
Instagram: bonnie_leick
How to Build a Haunted House
"This fun and friendly book will be a hit at Halloween storytimes or with monster-loving children who don't necessarily go in for frights." —Booklist
How to Build a Haunted House
by Frank Tupta and illustrated by Kyle Beckett
Grade Level : Preschool – 2
Hardcover : 40 pages
Reading level : 3 – 7 years
Publisher : Two Lions; Illustrated Edition (July 21, 2020)
Past the graveyard,
hear the howl
of werewolf loggers
on the prowl.
In this spooky, rhyming romp, creatures of all types work together to build a haunted house for a vampire family in need of a home. From mummies to Cyclops to the skeleton crew, they're all working hard to get the job done. But they'd better hurry, because the house needs to be finished before the sun comes up. It's a good thing their foreman, Frankenstein, is here to keep everyone in check. Will they get it done in time?
My review
Ooooo! A haunted house you say? Yes! But this one has yet to be built! Read along and watch the monsters build for the new family on the block!
Your kids will love this silly Halloween book. Seeing all of the different monsters gathering together to build a haunted house will have them laughing at all of the mayhem and mishaps. The illustrations in this Halloween book fit the mood; the monsters are building the house during the dark, but the book is still filled with color. I think your little ones will really enjoy "learning" How to Build a Haunted House.
About the creators of How to Build a Haunted House
Frank Tupta grew up in a haunted house in Cleveland, Ohio. His favorite holiday is Halloween. He currently lives in Peninsula, Ohio (a haunted town), with his wife, children's book author and illustrator Lindsay Ward and their children. How to Build a Haunted House is his debut picture book.
Follow him on Twitter @Ftupta or at his website www.uptasomething.com.
In the third grade, Kyle Beckett sold a drawing of a bluebird in sunglasses for a chocolate chip cookie at lunch. He grew up in Rockford, Illinois, and later moved to Sarasota, Florida, to study illustration at Ringling College of Art and Design. He is the author and illustrator of A Lovely Day for a Drive. He currently lives in Atlanta.
Follow him on Instagram @kylebeckett.
That Monster on the Block
"This humorous, fast-paced story, narrated with clipped sentences, conveys an important, unsubtle message about the importance of accepting diversity." —Kirkus Reviews

That Monster on the Block
by Sue Ganz-Schmitt and illustrated by Luke Flowers
Grade Level : Preschool – 3
Hardcover : 32 pages
Publisher : Two Lions (October 1, 2020)
Reading level : 4 – 8 years
Monster is excited to see what kind of creature will move into Vampire's old house on the block. He even starts practicing his welcome growl for the new neighbor. But when the moving truck pulls up, it's not a greedy goblin, an ogre, or a dastardly dragon that steps out. Instead, it's something even more terrifying than Monster could have imagined!
Monster quickly rallies the other neighbors to unite against the new guy on the block. But what if the new neighbor isn't exactly as bad as Monster thinks? Join Monster as he confronts his fears in this charming and lighthearted look at what it means to accept others who are different from us.
My review
That Monster on the Block is adorable! Don't tell Monster though. I'm not sure he'd appreciate his book being called adorable…well, at least not at first…
Monster is so excited to see who is going to move into the house that the vampire family moved out of. But when he discovers a CLOWN moved in, he's not at all happy! He calls all of his friends up to complain thinking they'll agree with him. Well, once Monster's neighbors get to know their new neighbor, they're happy! He's not so bad! But will Monster agree? Maybe…
Monster learns some valuable lessons in That Monster on the Block…lessons you can teach your little ones. Just because someone is different from you doesn't mean you can't be friends. Don't judge someone based on first impressions. It's okay to do something new! And, by the way, don't gossip about your neighbors to your other neighbors! That's a lesson we parents can learn too! Like I said, this Halloween book is adorable, and your kids will love both the story and the vivid illustrations.
FREEBIES!
Get some coloring pages created by the illustrator for free here!
About the creators of That Monster on the Block
Sue Ganz-Schmitt was born on the Fourth of July and grew up in Sherman Oaks, California. She now lives in Los Angeles with her husband and family. She is the author of many picture books, including the popular Planet Kindergarten and Planet Kindergarten: 100 Days in Orbit, both illustrated by Shane Prigmore. Sue holds an MFA in writing for children and young adults from Vermont College of Fine Arts.
Learn more at www.sueganzschmitt.com.
Twitter: SueGanzSchmitt
Luke Flowers is the illustrator of more than fifty children's books, including the New York Times bestseller A Beautiful Day in the Neighborhood with poems by Fred Rogers and Disney's The Muppet Christmas Carol storybook. Luke enjoys puppeteering, playing banjo, and having wacky adventures with his family. He lives with his wife and family in Colorado Springs.
Learn more about his story, books, and art at www.lukeflowers.com.
Twitter: @lafcreative
Instagram: @lfcreative
Watch the book trailer
Weird but True! Halloween
This latest installment in the wildly popular WBT series is jam-packed with a colorful, eye-popping images and 300 spooky facts that will scare you SILLY.
Weird but True! Halloween
by Julie Beer and Michelle Harris
Grade Level : 3 – 7
Paperback : 208 pages
Publisher : National Geographic Kids; Illustrated Edition (September 8, 2020)
Reading level : 8 – 12 years
The wildly popular Weird But True! line is all dressed up for Halloween with 300 all-new spooky facts about candy, costumes, pumpkin carving, and more! Calling all boys and ghouls: You're in for a treat of freaky facts, stats, tidbits, and trivia about one of the most popular holidays!
Did you know that there is an underwater pumpkin carving contest? Or that the U.S. Defense Department has a zombie apocalypse plan? Maybe you'd be amazed to discover that there are more Halloween emojis than there are U.S. states? It's all weird–and it's all true–in this latest and greatest edition, packed with hilarious and terrifying tidbits on Halloween!
My review
These 300 weird but true Halloween facts are really interesting. Sure, as an adult you might know many of them, but I guarantee, you won't know them all! For example, did you know that there's an annual pumpkin regatta near Sacramento, CA where people paddle across a lake in hollowed-out pumpkins? Weird, right? But it's true! Your kids will love this Halloween book and sharing the fun facts they find out in Weird but True! Halloween.
About the creator of Weird but True! Halloween
NATIONAL GEOGRAPHIC KIDS inspires young adventurers to explore the world through its award-winning books, magazines, website, television series, radio show, apps, games, and events, and is the only major kids brand with a world-class scientific organization at its core.
Learn more about the Weird but True! books: https://kids.nationalgeographic.com/explore/adventure_pass/weird-but-true/
Enter the giveaway ENDED
There will be one winner of these freakishly fun Halloween books! US only
Please note that there are two sponsors and you will receive Weird but True! Halloween courtesy of National Geographic Kids and It's Halloween, Little Monster; How to Build a Haunted House; and That Monster on the Block, courtesy of Two Lions/Amazon (U.S. addresses).
This giveaway is open to the US only to ages 18+. This giveaway is void where prohibited. By entering this giveaway, you're agreeing to the privacy policies of this blog. Entrants need a profile picture on one social media account from which they're entering. One entry per household. The winners have 48 hrs. to claim the prize or another winner will be chosen.
MamatheFox and all participating blogs are not held responsible for sponsors who fail to fulfill their prize obligations.