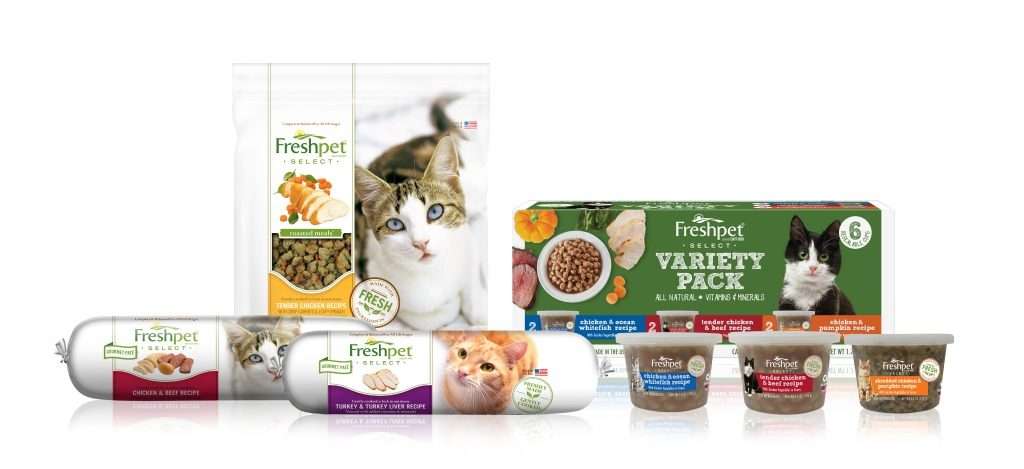 Freshpet® is showing the love for our feline companions in a big way: they are helping cat shelters across numerous states with special cooler bags and more. To celebrate the release of their new fresh cat foods, they are giving back! That is what I love most about companies. Freshpet truly cares about shelter animals, and they want to make it easy for the shelters to store Freshpet by offering these cooler bags.
How Freshpet is different
Unlike traditional dry cat food, every Freshpet recipe starts with moisture rich, high quality poultry, meat or fish which helps provide cats the natural hydration they need.  Cat's tend to have a natural low-level thirst drive, so Freshpet products were made to retain high levels of moisture and provide natural hydration.  All the healthy, protein-rich Freshpet cat meals are grain free and made in the USA  using only the highest quality natural ingredients. Freshpet believes all pets deserve to benefit from eating fresher, less processed foods just like we do to stay healthy. And they've heard from thousands of pet parents who have seen their pets become happier and healthier due to a fresh diet.
New expanded line of Cat meals
ROASTED MEALS – Tender, bite-sized morsels made with fresh chicken, fish and veggies.
Freshpet® Select Tender Chicken with Garden Vegetables
CUPS – Indulgent, bite-size morsels made with real meat, fish and veggies in a mouth-watering gravy.
Freshpet® Select Chicken & Ocean Whitefish with Garden Vegetables
Freshpet® Select Chicken & Pumpkin with Garden Vegetables
Freshpet® Select Tender Chicken & Beef with Garden Vegetables
ROLLS – Gourmet, soft & smooth pate-style meals made with high quality chicken, beef or turkey.
Freshpet® Select Turkey & Turkey Liver
Freshpet® Select Chicken & Beef
Freshpet® Select Cat Cup Variety Pack – Chicken & Ocean Whitefish Cups; Tender Chicken & Beef Cups and Chicken & Pumpkin Cups
Advice from a veterinarian
"It is a fact that the healthier you feed your pet, the longer and happier life your pet will have," Says Dr. Katy Nelson, associate veterinarian at the Belle Haven Animal Medical Centre in Alexandria, VA, as well as the host and executive producer of "The Pet Show with Dr. Katy." Freshpet is what I feed my pets and recommend to all my pet parents."
Freshpet meals for cats are available in select Walmart stores in West Palm Beach and also in select Walmart stores in Florida, Connecticut, Arkansas, Idaho, Massachusetts, Maine, Minnesota, North Dakota, New Hampshire, Rhode Island and Wisconsin.
To learn more, visit www.freshpet.com