Want to know what's coming from Walt Disney Studios in 2019? I've got the Disney Movies 2019 list for you! But first…
What happened to 2018?! Seriously. It just flew by! I can't remember much about this past year, but I do remember there were amazing movies from Walt Disney Studios in 2018. Did you see them all? Go back to my post from January 2018 to check! Though I enjoyed all of the movies from last year, I ended up loving one of them more than I could have imagined: BLACK PANTHER.
Plus, I was so blessed to be able to attend the INCREDIBLES 2 Event in San Francisco AND the RALPH BREAKS THE INTERNET Event in Los Angeles. Those movies and events blew me away. They were definitely the highlight of 2018. Now let's take a look at what's coming from Walt Disney Studios in 2019.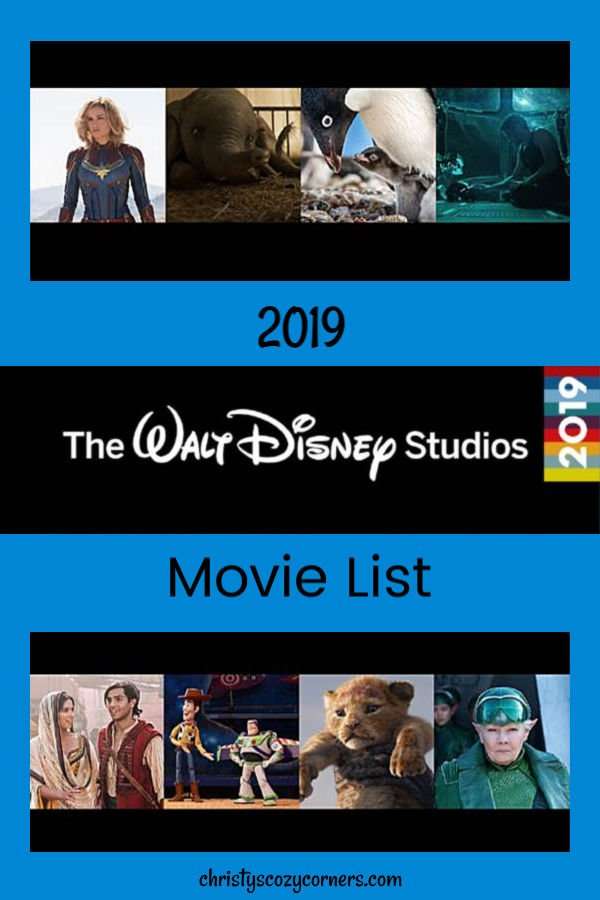 Disney Movies 2019 List
This Disney movies 2019 list is ah-may-zing. We're going to be doing a significant amount of crying over the heartwarming movies. There will be gasping and cheering (and probably bawling) during the Marvel movies. And I can't even begin to explain my excitement for STAR WARS EPISODE IX. I was just watching THE EMPIRE STRIKES BACK and RETURN OF THE JEDI today! Anyway, as usual, I digress…let's get this party started!
Captain Marvel (Marvel Studios)
Walt Disney Studios is kicking off 2019 with a bang on March 8, 2019 with CAPTAIN MARVEL!!!!!! Please tell me you are as excited to see this film as I am. I think CAPTAIN MARVEL is going to blow up the box office as Marvel's first female superhero to have her own movie.
The trailer was/is awesome, and I did my first "real" reaction video for this film! I would love for you to watch it. I promise that it's not too awful!
Captain Marvel Trailer 2
About Captain Marvel
Set in the 1990s, Marvel Studios' "Captain Marvel" is an all-new adventure from a previously unseen period in the history of the Marvel Cinematic Universe that follows the journey of Carol Danvers as she becomes one of the universe's most powerful heroes. While a galactic war between two alien races reaches Earth, Danvers finds herself and a small cadre of allies at the center of the maelstrom.
CAPTAIN MARVEL soars into theatres March 8, 2019! #CaptainMarvel
Dumbo (Walt Disney Studios)
Next on our Disney Movie List 2019, we've got DUMBO, coming to theatres March 29, 2019! Cue the crying. I'll admit, I've cried watching the trailers for DUMBO, especially when hearing the "Baby of Mine" song! I'll admit it…DUMBO sort of scared me when I was little. If you think back to the original movie, you know what I mean. As an adult, it's not going to scare me, but I sure will be needing all the tissues. DUMBO has a star-studded cast, and I can't wait to see it!
Dumbo Official Trailer
About Dumbo
From Disney and visionary director Tim Burton, the all-new grand live-action adventure "Dumbo" expands on the beloved classic story where differences are celebrated, family is cherished and dreams take flight. Circus owner Max Medici enlists former star Holt Farrier and his children Milly and Joe to care for a newborn elephant whose oversized ears make him a laughingstock in an already struggling circus. But when they discover that Dumbo can fly, the circus makes an incredible comeback, attracting persuasive entrepreneur V.A. Vandevere, who recruits the peculiar pachyderm for his newest, larger-than-life entertainment venture, Dreamland. Dumbo soars to new heights alongside a charming and spectacular aerial artist, Colette Marchant, until Holt learns that beneath its shiny veneer, Dreamland is full of dark secrets.
DUMBO flies into theatres March 29, 2019. #Dumbo
Penguins (Disneynature)
Penguins! Who doesn't love penguins? A brand new feature film, PENGUINS, is coming to theatres April 17, 2019.
About Penguins
Disneynature's all-new feature film "Penguins" is a coming-of-age story about an Adélie penguin named Steve who joins millions of fellow males in the icy Antarctic spring on a quest to build a suitable nest, find a life partner and start a family. None of it comes easily for him, especially considering he's targeted by everything from killer whales to leopard seals, who unapologetically threaten his happily ever after. From the filmmaking team behind "Bears" and "Chimpanzee," Disneynature's "Penguins" opens in theaters nationwide in time for Earth Day 2019.
Official Trailer
Disneynature's PENGUINS flaps into theatres April 17, 2019. #DisneynaturePenguins
Avengers: Endgame (Marvel Studios)
Ahhhhhhhhhhhhhhhhhhhhhhhhhhhhh!!!!!!!!!!! Yes, that will be my reaction to AVENGERS: ENDGAME which is hitting theatres April 26, 2019. I am so excited yet so apprehensive! I don't want this world in which Thor, Captain America, Iron Man, Star-Lord, Ant-Man, Black Widow (and so many of my other favorite characters) exist to end…ever.
Official Trailer
I did a reaction video for this too! I'd love it if you watched!
AVENGERS: ENDGAME comes to US theatres April 26, 2019. I'll be the one with the box of tissues. #AvengersEndgame
Aladdin (Walt Disney Studios)
What is the first thing that pops into your head when you hear ALADDIN? The genie? The songs? Jasmine? For me, it's all of those things, but Jasmine played a big role around this house back when my kids were little. We've got several Jasmine VHS tapes that I'm sure my daughter will never part with! You can bet she is super psyched for the live action ALADDIN.This is the first of the next three films on the Disney Movies 2019 list that are going to make me wish time could be reversed! I know I will be shedding some nostalgic tears while watching this with my first baby who is now 24.
Official Teaser Trailer
About Aladdin
A thrilling and vibrant live-action adaptation of Disney's animated classic, "Aladdin" is the exciting tale of the charming street rat Aladdin, the courageous and self-determined Princess Jasmine and Genie who may be the key to their future.
ALADDIN flies into theatres (on a magic carpet), May 24, 2019. #Aladdin
Toy Story 4  (Disney·Pixar)
My tender mom heart is in no way prepared for TOY STORY 4 which rides into theatres June 21, 2019. All I have to do is think back to the Christmas my son got Buzz and Woody! I can still hear his little excited voice (thanks to home movies) saying, "Buzz and Woody!" Yeah, if we thought TOY STORY 3 was hard to handle, I've heard that this one will be even harder! I'm pretty sure I'll be keeping Kleenex in business this year.
Official Teaser Trailer
About Toy Story 4
Woody has always been confident about his place in the world and that his priority is taking care of his kid, whether that's Andy or Bonnie. But when Bonnie adds a reluctant new toy called "Forky" to her room, a road trip adventure alongside old and new friends will show Woody how big the world can be for a toy. Directed by Josh Cooley ("Riley's First Date?") and produced by Jonas Rivera ("Inside Out," "Up") and Mark Nielsen (associate producer "Inside Out").
TOY STORY 4 is coming to US theatres June 21, 2019. #ToyStory4
The Lion King (Walt Disney Studios)
Three in a row…Disney, why do you do this to me? THE LION KING was my daughter's absolute favorite movie. We had to call her Simba! She had all things related to the movie and still does. We cannot wait to see this movie together when it roars into theatres July 19, 2019.
Official Teaser Trailer
About The Lion King
Director Jon Favreau's all-new "The Lion King" journey's to the African savannah where a future king is born. Simba idolizes his father, King Mufasa, and takes to heart his own royal destiny. But not everyone in the kingdom celebrates the new cub's arrival. Scar, Mufasa's brother–and former heir to the throne-has plans of his own. The battle for Pride Rock is ravaged with betrayal, tragedy and drama, ultimately resulting in Simba's exile. With help from a curious pair of newfound friends, Simba will have to figure out how to grow up and take back what is rightfully his.
Oh, baby Simba! I can't wait to see you in THE LION KING in theatres July 19, 2019! #TheLionKing
Artemis Fowl (Walt Disney Studios)
I've heard of these books, but I think my kids were the wrong age when they came out to get into them. Now that I have seen the trailer, and know what it's about, I am going to have to read them before ARTEMIS FOWL comes to theatres August 9, 2019.
Official Teaser Trailer
About Artemis Fowl
Disney's "Artemis Fowl," based on the beloved book by Eoin Colfer, is a fantastical, spellbinding adventure that follows the journey of 12-year-old genius Artemis Fowl, a descendant of a long line of criminal masterminds, as he seeks to find his father who has mysteriously disappeared. With the help of his loyal protector Butler, Artemis sets out to find him, and in doing so uncovers an ancient, underground civilization—the amazingly advanced world of fairies. Deducing that his father's disappearance is somehow connected to the secretive, reclusive fairy world, cunning Artemis concocts a dangerous plan—so dangerous that he ultimately finds himself in a perilous war of wits with the all-powerful fairies.
ARTEMIS FOWL comes to US theatres August 9, 2019. #ArtemisFowl
Frozen 2 (Walt Disney Animation Studios)
Say what? Yes, it's true. That lovable snowman is coming back (oh yeah, Elsa and Anna are too)! FROZEN 2 comes to theatres November 22, 2019.
About Frozen 2 
Arendelle heats up in 2019 when Anna, Elsa, Kristoff and Olaf return to the big screen in Walt Disney Animation Studios' "Frozen 2," the much-anticipated follow-up to 2013's Oscar®-winning "Frozen"—the highest grossing animated film of all time. Kristen Bell, Idina Menzel, Jonathan Groff and Josh Gad reprise their roles, while Chris Buck and Jennifer Lee, the team behind "Frozen," return to the directors' chairs.
More about FROZEN 2 is coming soon!
Star Wars: Episode IX (Lucasfilm)
Last, but CERTAINLY not least on this amazing Disney Movies 2019 list is STAR WARS: EPISODE IX which opens in U.S. theaters on December 20, 2019.
More information is coming soon!
What an epic year this is going to be! I cannot wait to share more about these movies with you as I get the information. Movies are such a huge part of my life, and I love that I can be a part of this world that is Walt Disney Studios!