I've got some adorable pop culture and educational board books to share with you that you will love! Seriously, they're for babies, but you'll love them just as much!
Wild Bios: Frida Catlo
Frida Catlo is the first title in a new educational board book series of biographies featuring well-known historical figures with a surprising twist that makes them accessible and engaging for even the youngest readers. Plus, funny puns throughout make them fun for parents to read aloud!
Frida Catlo was one purr-fect painter! Meet one of history's greatest figures in this adorable board book with an animal twist! Famous Meowxican painter Frida Catlo was a pioneer for female artists.
She always painted from the heart, even in the face of health problems and personal struggles. With hilarious puns and colorful illustrations, this book brings Frida's legacy to life for babies and parents alike!
Wild Bios: William Sheepspeare will be released in April.
My Review of Frida Catlo
I'll admit it. My knowledge of Frida Kahlo is very limited. All I really know about her was that she was a Mexican artist who did self-portraits. Now my knowledge of her has grown all thanks to a board book called Frida Catlo.
For instance, I now know that she was born in 1907, 3 years before my grandma was born. When I think about that Frida Kahlo's story becomes even more amazing. Even though her work is more famous now than it was when she was living, it did receive a lot of attention. In fact, in 1939 she was invited to France to show her portraits at a gallery, and the Louvre bought one! And it was the first work from a Mexican artist that they'd ever bought!
Just think about how much you can share with your child by reading this fun yet educational board book, Frida Catlo. Who knows? You might just inspire the world's next Frida Kahlo. You can see her work online and learn more about her life at Frida Kahlo.org.
This past International Women's Day, this was one of the Google Doodles! It translates to "Feet, what do I need them for if I have wings to fly?"
Happy International Women's Day 2019! Explore powerful words by women & illustrated by women from around the world ! #GoogleDoodle #IWD2019https://t.co/qgbqwzoaqu

— Christy Maurer (@Christy41970) March 8, 2019
Cat and Mouse
The perfect place for a mouse is inside a cozy, warm house, but a cat lives there too, and once the cat sees the mouse, a chase ensues. As the cat and mouse scurry about—on top of a chair, inside a box, outside a window, through a hole—young readers will learn about important prepositions that help them understand where one object is in relation to another in Cat and Mouse by Britta Teckentrup. At the end of this colorful chase, the cat and mouse curl up together and nap until they're ready to start the whole thing again.
Britta Teckentrup's eye-catching, simple illustrations are cleverly enhanced with cut-outs that help reinforce the words, providing a unique and fun interactive experience that teaches young readers about basic prepositions.
My Review of Cat and Mouse
Cat and Mouse is one of those books that teaches kids important concepts, yet they've got no idea they're learning. They are just being entertained. It's a tale as old as time…the cat chasing the mouse through the house! They go up and down, inside and outside, and around and around. Your little ones will love the cut out shapes throughout this educational book, and you'll love the small details that are teaching your child that learning can be fun.
The Story of Rock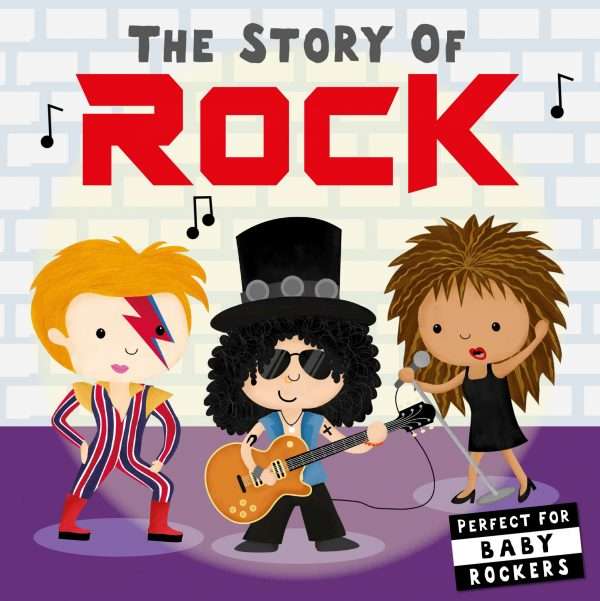 1…2…3…4! Let's rock and roll, babies! From Elvis Presley to Beatlemania, from Janis Joplin to David Bowie—rock has transformed through generations while ringing true with passionate sound. Rock along with the greats in this delightful baby book that introduces little ones to the rockers that started it all!
Parental Advisory: May cause toddlers to play the air guitar with adorable frequency.


My Review of The Story of Rock
I adore this book! Seriously. It's as if it was written just for my future grandkids. I made my 21 year old son read it because he loves music LOL. I wish this had been around when he was a toddler. The summer before he turned 2, he made up his first song. He played the little Fisher Price xylophone, and sang, "Mommy makes me so mad and angry. She won't let me have a purple 'pop-icle'." This still makes me laugh, yet it should have been a window to his future.
He started playing guitar, oh, probably around 9 or 10, and playing seriously when he was 15ish. By ear. Never had a lesson in his life. And he's awesome. This "kid" loves Johnny Cash, Elvis…all of the greats. He's been to the Rock and Roll Hall of Fame at least 3 times…once with me.
The book begins with the blues, and "the blues had a baby and they named it rock and roll." Love! Just about every era of rock music is represented in the book while highlighting artists associated with that era.
If you like rock music at all, you have to get this pop culture board book for a toddler in your life!
The Story of Rap
Lay down a baby beat and learn all about the history of rap! From Grandmaster Flash to Kendrick Lamar, rap has shaped generations and brought a voice to the voiceless. Bop along with the greats in this adorable baby book that introduces little ones to the rappers that started it all!
Parental Advisory: May cause toddlers to develop excessive amounts of swagger.
My Review of The Story of Rap
Okay, so I'm no the biggest rap fan, though I do a mean Eminem "Lose Yourself". But, even though I might not listen to it as much as other types of music, I do love the history of rap (and when I stop to think about it, several artists too).
I had no clue that rap started in 1973! Apparently DJs would just play whatever, and their friends would make up lyrics (spoken in story form, not sung) to go along with the beat. Now the 80s was when I was introduced to rap with Run DMC, and if you're my age, I'll bet you're singing "Walk This Way" right now. By the way, back then I had no idea "Walk This Way" was a song before this. Mhmm. Stop shaking your head.
From Run DMC, rap music progressed rapidly. Since I was more of a pop girl, I did not know anything about NWA, Tupac, Biggie, etc. until much later. Now, like I said, I am more inclined to listen to certain popular rap songs, but I'm sure those of you who grew up with 90's rap are still shaking your head at "popular" rap.
This is definitely a pop culture board book I'd add to my toddler's library just because I love music so much, and I love that it introduces little ones to music history! Long live the arts!
These 2 pop culture board books are the first tune-tastic titles in a new series introducing little ones to music history, in fun rhyming text with pop culture references sure to entertain parents and charming illustrations to enthrall little learners. They'll be out in May, so be sure to pre-order them now!