How many times have you seen CAPTAIN MARVEL? I saw it three times in the theater and once at home on Digital. Now that CAPTAIN MARVEL is available in collectible SteelBook format at Best Buy, as well as other formats, I'm sure I'll be watching it again soon! I love this film! If you follow my blog, you know my daughter and I are huge Marvel fans.  We had a Marvel movie marathon before AVENGERS: INFINITY WAR, and we've seen every Marvel movie on opening night since. CAPTAIN MARVEL was no exception!
This is a paid collaboration, however, all opinions are mine. Thank you, Best Buy, for sponsoring this conversation.
Bring Captain Marvel home today
Set in the 1990s, Marvel Studios' CAPTAIN MARVEL is an all-new adventure from a previously unseen period in the history of the Marvel Cinematic Universe that follows the journey of Carol Danvers as she becomes one of the universe's most powerful heroes. While a galactic war between two alien races reaches Earth, Danvers finds herself and a small cadre of allies at the center of the maelstrom.
CAPTAIN MARVEL is one of those movies you can't watch too many times. I feel like every time I watch it, I see something new. I previously shared my favorite scenes and quotes from the movie, but just in case you don't have time to go read that now, I'll share some of them again here.
For one thing, I think the fact that Carol lands in a Blockbuster is just epic! I totally miss going to Blockbuster! I mean, not that I would go now because we pretty much never have to leave our homes to rent movies now, but still. When my kids were little we'd go there a lot. My son loved looking at the used games for sale, and my daughter and I would find a movie to rent.
I loved the Skrulls! The scenes with them were some of the best. The beach scene where they shape shift into the surfers is so funny! Talos' fear of Goose was hilarious, but totally understood (later that is!). And speaking of Goose, he is definitely an awesome asset. I mean he keeps certain things safe and helps out when there is a crisis. Just don't let him scratch you.
Best Buy Exclusive edition of Captain Marvel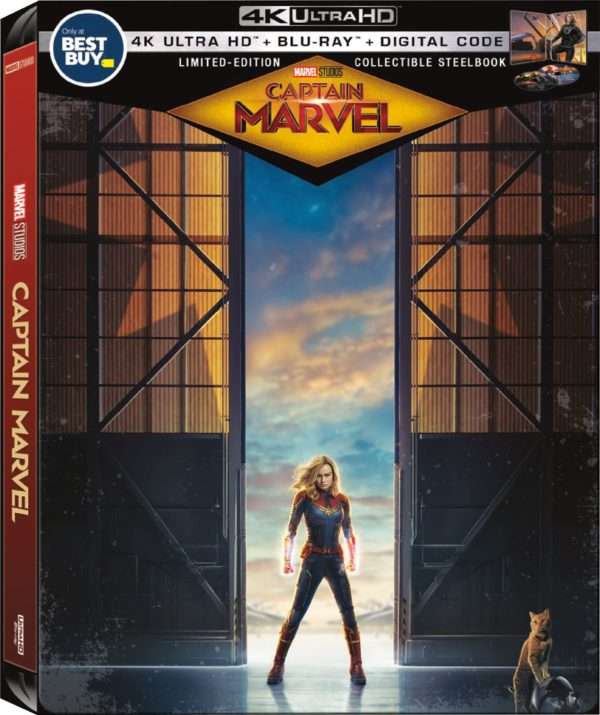 Marvel lovers and SteelBook collectors, head to Best Buy in person or order this online! The bonus features alone are worth bringing the CAPTAIN MARVEL collectible SteelBook format home. It's a must have item for all MCU fans!