What does the summer mean to you? For us, summertime is always associated with the ocean. Whether it's going to the beach or spending a week watching shark shows in July, the ocean is always a part of our summer. While the ocean is often a part of many families' summer vacations, many people are ignorant about the state of our oceans. Did you know that 80% of marine pollution comes from the land? (National Ocean Service.) The plastic debris in the ocean is predicted to outweigh all of the ocean's fish by 2050 (Conservation International). In fact, 100,000 marine mammals are killed by plastic waste in the ocean each year. So what can we do to help save the ocean? Being aware is a good place to start, as is reducing the use of single-use plastics.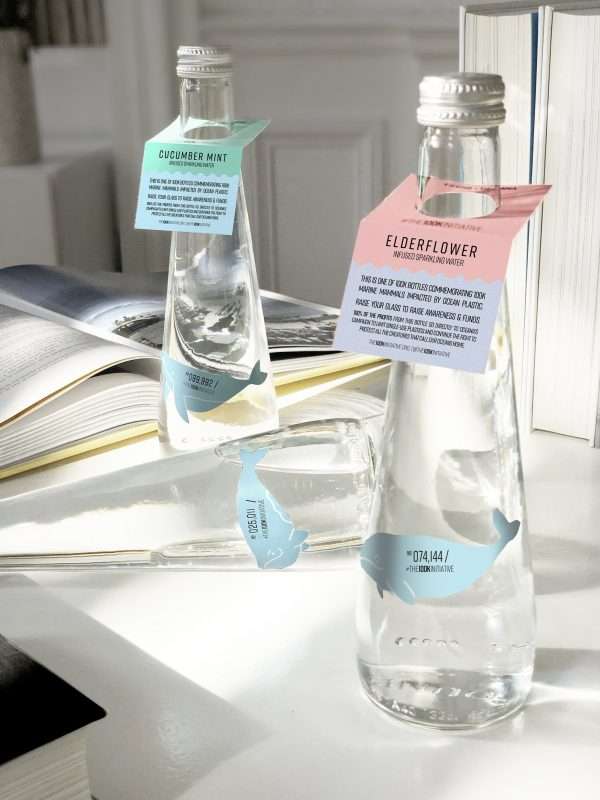 Save the Ocean with the 100k Initiative 
FOUND beverage company has partnered with Oceana to create the 100k Initiative. The 100k Initiative is an initiative to bring awareness to the state of our oceans and the dangers of single-use plastics. The initiative is also intended to make it easier to reduce the use of single-use plastics. Since 100,000 marine mammals are impacted by plastic pollution each year, FOUND has created 100,000 individually numbered glass bottles filled with their naturally sparkling, infused mineral water to commemorate these marine mammals. The proceeds of these bottles will go to Oceana, and Oceana will use it to help save the ocean and the animals in it.
Why We Love the 100k Initiative
As I said, the ocean is always a part of our summer. We want to help save our ocean so that we can enjoy it for years to come. I want to be able to swim in the ocean without bumping into plastic debris. (Bumping into plastic is even more disgusting than getting my legs tangled in seaweed!). If I'm bothered by plastic debris in the ocean, then I know the marine animals are bothered by it, too. I love finding new ways to reduce plastic waste (whether that's cutting our plastic straws or recycling my plastic grocery bags). I was thrilled when I learned about the 100k Initiative.
FOUND and Oceana Share My Interests
I love that FOUND is also concerned with saving our ocean. The company was founded by two friends, Mark & Onur, with the goal of creating a beverage company "based on purity, sustainability & transparency." FOUND is a sustainable company that uses glass bottles made from 100% recycled glass. They do not use labelling on their bottles. "FOUND is one of the most sustainable beverage companies in the world & the first carbon neutral certified one." FOUND took their interest in the environment a step further this year, by partnering with Oceana for the 100k Initiative this June for World Ocean Month. 100% of the profits go to Oceana, who will use the money to help save our ocean. I just love supporting companies that support the same things I do!
The Refreshing Beverage
Besides the ethical reasons, I also love the 100k Initiative because the water is SO GOOD. We were originally supposed to get the cucumber mint 12-pack, but we were sent the elderflower pack instead. We were hesitant at first (flower? In a drink?) but we tried it. And we loved it! I'm not usually a sparkling water fan because it's either not sweet enough or it has too much sugar. The FOUND sparkling water doesn't have that issue. They sweeten their beverages with beet sugar. The naturally sparkling water, infused with "natural aromas, extracts and a splash of non-gmo beet sugar" makes for a super delicious, refreshing beverage.
The Reusable Glass Bottles
The great thing about glass bottles is that they are reusable! You can refill them with whatever beverage you want. You can use them as a vase. The bottles could even be used for a craft. Whatever you decide to (re)use them for, you can look at them and know that they represent the marine mammals you chose to support by supporting the 100k Initiative. We just ask that if you don't choose to keep them and reuse them, that you will choose to recycle them.
Help Save the Ocean with the 100k Initiative
Although World Ocean Month is almost over, that doesn't mean it's too late to help save the oceans! You can purchase your 100k Initiative beverages by clicking here. You can choose from cucumber mint and elderflower. Want to learn more about the 100k Initiative and how you can get involved? Click here to access the 100k Initiative website. Make sure to come back here and let us know how you chose to (re)use your glass bottles!
Donate to support wildlife research
It costs a lot to fund conservation research, and organizations need constant financial aid. The International Union for Conservation of Nature (IUCN) conducts research on endangered species issues. To increase awareness and push forward in combating species extinction, try donating to different organizations. Also, you can support fundraising efforts by purchasing collectibles like this shark bracelet. If we all participate in small actions we can ensure the protection of wildlife and our environment.