If you haven't been to see THE SECRET LIFE OF PETS 2 yet, get to the theater! The movie is adorable, and you and your kids will love it!
The Secret Life of Pets 2
Terrier Max is coping with some major life changes. His owner is now married and has a toddler, Liam. Max is so worried about protecting the boy that he develops a nervous tic.
On a family trip to a farm, Max and mutt Duke encounter canine-intolerant cows, hostile foxes and a terrifying turkey, all of which only elevates Max's anxiety. Luckily, Max gets some guidance from veteran farm dog Rooster, who pushes Max to ditch his neuroses, find his inner alpha, and give Liam a little more freedom.
Meanwhile, while her owner is away, plucky Pomeranian Gidget tries to rescue Max's favorite toy from a cat-packed apartment with a little help from her feline friend, Chloe, who has discovered the joys of catnip.
And crazy-but-cute bunny Snowball gets delusions of grandeur that he's an actual superhero after his owner Molly starts dressing him in superhero pajamas. But when Daisy, a fearless Shih Tzu, shows up to ask for Snowball's help on a dangerous mission, he'll have to summon the courage to become the hero he's only been pretending to be.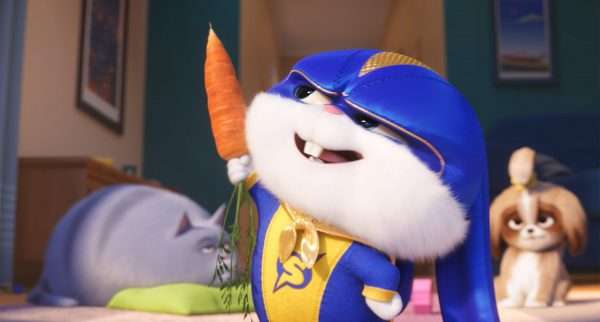 Can Max, Snowball, Gidget and the rest of the gang find the inner courage to face their biggest fears?
Cast and crew
Genre: Comedy
Cast: Kevin Hart, Tiffany Haddish, Harrison Ford, Patton Oswalt, Eric Stonestreet, Jenny Slate, Lake Bell, Hannibal Buress, Nick Kroll, Dana Carvey, Ellie Kemper, Pete Holmes, Garth Jennings, Bobby Moynihan
Director: Chris Renaud
Co-Director: Jonathan Del Val
Writer: Brian Lynch
Producers: Chris Meledandri, Janet Healy
Movie review
Poor Max! All he wants to do is protect "his" baby Liam, but the world is a dangerous place! So, Max develops a nervous tic and has to wear the cone. Sure, it stops him from being able to scratch (the nervous tic), but it doesn't stop his worry at all! When Max, Duke and the family take a trip to the farm, Max finds more things to worry about! There are crazy animals everywhere, and Max isn't allowed to sleep in the house. Who will watch over Liam?
While at the farm, Max and Duke meet a border collie named Rooster, voiced by Harrison Ford in his first animated role! If you know John Wayne movies, you'll know the movie Rooster Cogburn. Well, this Rooster is much like John Wayne. He's old school, and all of the farm animals respect him. He helps Max find courage and finally Max can stop his constant worry over Liam.
Meanwhile, back home in New York, Max and Duke's friends have their own wild and crazy adventures which start when Gidget loses Max's favorite ball! Lots of madcap fun ensues including a "crazy cat lady's" apartment. I say that with affection too because I'm totally going to be her when I grow up! She's my favorite character in the movie!
I think that THE SECRET LIFE OF PETS 2 is my favorite of the two movies. I just love the farm with Rooster and the cat lady in New York.
THE SECRET LIFE OF PETS 2 is filled with lots of fun characters, lots of humor and lots of heart. You're going to love it!
If I still haven't convinced you, check out these trailers!
Follow the movie
Official Website | Facebook | Twitter | Instagram | Illumination on YouTube | #TheSecretLifeofPets2