I received a copy of Blind Spot free from Bethany House as part of their blogger program. All opinions are mine.
Blind Spot
FBI agent Declan Grey is in the chase of his life–but isn't sure exactly what he's chasing after. Threatened by a terrorist that "the wrath is coming," Grey fears something horrible is about to be unleashed on American soil. When his investigation leads him to a closed immigrant community, he turns to Tanner Shaw to help him. She's sought justice for refugees and the hurting around the world, and if there's anyone who can help him, it's Tanner.
Tanner Shaw has joined the FBI as a crisis counselor . . . meaning she now has more opportunity to butt heads with Declan. But that tension also includes a spark she can't deny, and she's pretty sure Declan feels the same. But before anything can develop between them, they discover evidence of a terror cell–and soon are in a race against the clock to stop the coming "wrath" that could cost thousands their lives.
My Review
Blind Spot is the third book in Dani Pettrey's Chesapeake Valor Series and the second I've read in the series. I loved Cold Shot, the first book in the series. Each book in this series focuses on a different member of a group of guys who have been friends for years. Now they are connected through the FBI. This book has two different stories going on simultaneously, and both are very exciting and suspenseful.
The first and main storyline involves Declan Grey and Tanner Shaw. They're brought together when Tanner helps Declan with a terrorist case he's working on. Tanner is a crisis counselor, and she knows someone who may be able to help. She is reluctant to get her client involved, but she agrees to since lives are in danger. This action sets off a dangerous chase. Declan and Tanner are being followed and shot at almost the entire case. Declan and the guys' elusive friend Luke shows up to help out, but he still must remain a secret from everyone.
The second storyline involves a theft that their old coach is being set up for. Then when homicides and a suicide are discovered, the coach looks even more guilty.
You'll love the excitement and romance in Blind Spot. It is a fast-paced book that all romantic suspense lovers will appreciate. I love how the stories are interwoven, yet you can read them as stand alone books. I definitely recommend this one.
Follow the Pinterest Board for Blind Spot
Enjoy a Mexican Feast with Blind Spot
Everyone knows books and food make the best combination! Thanks to Dani Pettrey, I've got some awesome recipes for you to try! Once you read Blind Spot, you'll see how they fit in with the book very well.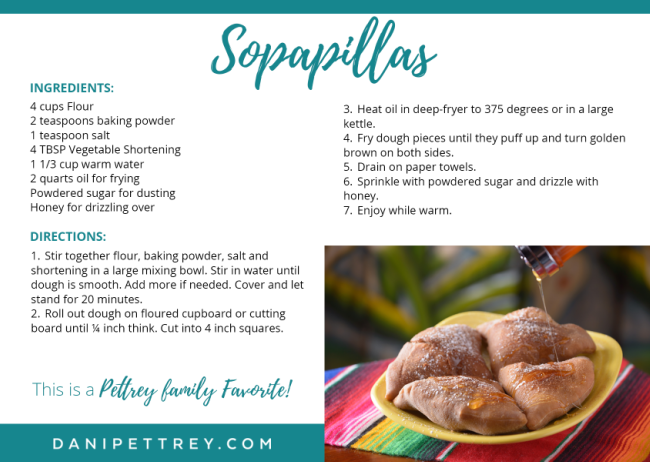 Dani Pettrey
Dani Pettrey is a wife, former homeschooling mom and author. She feels blessed to write inspirational romantic suspense because it incorporates so many things she loves–the thrill of adventure, nail-biting suspense, the deepening of one's faith and plenty of romance. She's a huge fan of dark chocolate, is always in search of the best iced mocha and her dream is to one day own a little cottage on a remote stretch of beach. She and her husband reside in Maryland, where they enjoy time with their two daughters, son-in-law, and 2 super adorable grandsons.
Like Dani on Facebook
Follow Dani on Twitter
Dani's Pinterest Boards
Follow Dani on Instagram