One of the best things about spring and summer is that it is picnic season. People break out the recipes that they only make during this time of year. I love the variety of picnic dessert recipes, like this strawberry fluff pie, that grace the tables of family reunions, company picnics, and get togethers.
Strawberry Fluff Pie
Strawberry Fluff Pie is a staple at these gatherings. It is easy, refreshing and delicious! I'm sharing this and more picnic dessert recipes for you to try!
Ingredients
9 oz. Graham Cracker Crust or 2—6 oz. Graham Cracker Crusts
3 oz. pkg. Strawberry Gelatin
8 oz. Whipped Topping
2 Cups Strawberries, diced
2/3 cup Boiling Water
½ cup Cold Water
Ice Cubes 
Directions
Pour the package of gelatin into a bowl and add the boiling water. Stir until dissolved.
Put the ½ cup of cold water into a measuring cup and put ice cubes into it until the water fills up to the one cup mark. Mix the water and ice into the gelatin and stir until the ice is melted.
Put the whipped topping into the gelatin and whisk it until it is thoroughly mixed.
Pour the mixture into your pie shell until about ¾ full. If you are using the one larger pie shell, you will have some extra gelatin mixture left over. If you use the two smaller size pie shells, then you won't.
Sprinkle in the diced strawberries all around. Some will start sinking which is what you want so you have the strawberries throughout the pie.
Set in the fridge for 2-3 hours or until firm.
Garnish with more whipped topping and strawberries if you would like.
Enjoy!!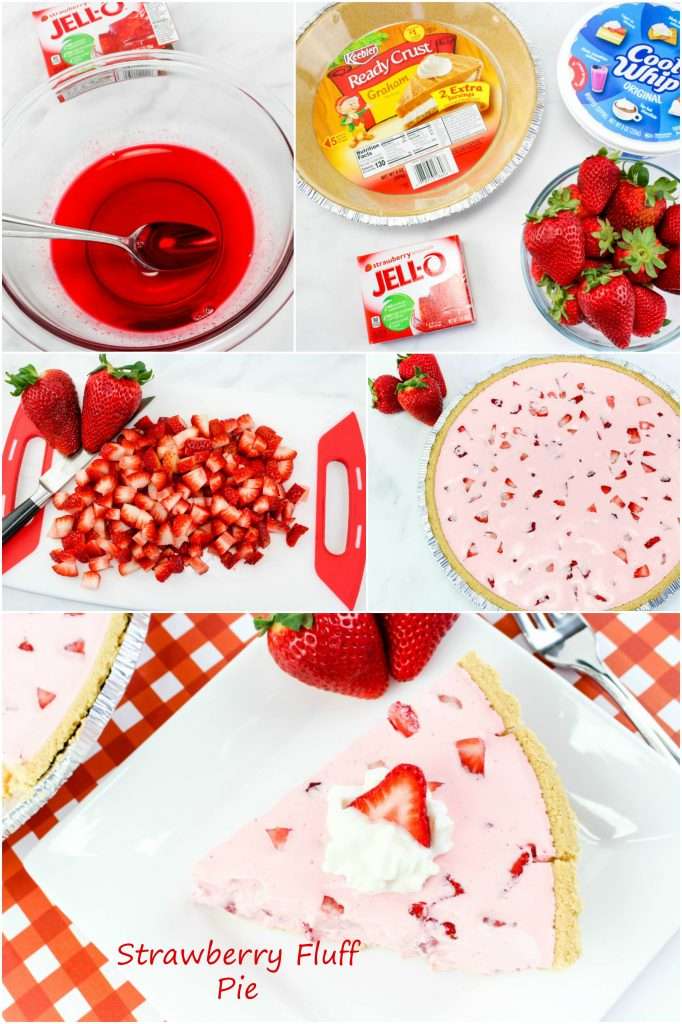 More Picnic Dessert Recipes
Easy S'mores on a Stick from Saving You Dinero
Easy Smores on a Stick are the perfect solution to messy marshmallows that fall into the fire or get you all sticky.
Sand Pudding from Saving Dollars & Cents
This pudding is simple, delicious and looks just like sand!
Mexican Fruit Salad with Chili Lime Dressing from Wander Spice
A bright and vibrant mix of watermelons, cucumbers, jicama, pineapples, and mangoes. A lime and chili dressing adds a fresh pop.
No Bake Strawberry Cheesecake in a Jar from Eating on a Dime
These little jars are packed with delicious cheesecake and make the perfect dessert for any occasion.
Orange Fluff Cottage Cheese from Trisha Dishes
This light citrus-flavored dessert is just lovely for brunches, parties, picnics (on ice), barbecues, pool parties, or even just as an afternoon snack.
Cherry Vanilla Cake with Red, White and Blue Swirl Frosting from Baking a Moment
The cake is a simple vanilla butter cake, spiked with fresh cherries and a hit of almond extract to bring out their sweet flavor.
Cupcakes with Strawberry Cream Cheese Frosting from Low Carb Yum
This strawberry cream cheese frosting is a delicious sugar free icing for low carb cupcakes, and it adds a natural pink color and a fruity taste.
Red, White, and Blue Cheesecake Salad Recipe from Fancy Shanty
With this easy, 15-minutes cheesecake salad recipe, you can create a red, white, and blue recipe everyone will love!
Apple Snickers Salad from Joyfully Thriving
If you're looking for a simple and delicious salad that you can make quickly, try this recipe for apple snickers salad.
Honey Lime Fruit Salad from Domestically Creative
A rainbow blend of fruit, combined with a sweet and tart dressing makes this honey lime fruit salad a sure to be hit at any picnic.
Coconut Crescent Layer Bars from Sincerely, Mindy
This combination of white chocolate, butterscotch, macadamia nut and coconut is absolutely delicious.
Chewy White Chocolate Lemon Bars from The Monday Box
These are lemony, soft, chewy and travel well.
Oatmeal Chocolate Chip Cookies from Beyond the Chicken Coop
These are crisp, are filled with oatmeal and have chocolate chips!
Peanut Butter Oatmeal Blondies from VegAnnie
These are ridiculously easy to make and totally healthy. Vegan, gluten-free, oil-free, sugar-free, and low-calorie.
Mason Jar Strawberry Lemonade Cupcakes from For the Love of Food
These stacked cakes topped with lemon cream cheese frosting are a pretty semi homemade treat.
Angel Food Cake with Berries is another great refreshing treat for a summer picnic!