Disclosure: Cupcakes, Cars and Luigi's Casa Della Tires post contains affiliate links.
If you've been following my blog for any amount of time, you know how I feel about CARS. It brings back memories of a little boy who needed all the CARS toys and games. This week, we're celebrating Pixar Fest with CARS. Sing it with me….
Slow down, you're gonna crash
Baby you were screamin'
It's a blast, blast, blast
Pixar Fest is going on now through September 3 at Disneyland and Disney California Adventure Park. When you're there, you're going to want to experience the fun in Cars Land too!
CARS
CARS is such an iconic movie, and I'm sure I've watched it dozens of times. It never gets old, nor do the characters. One of my favorite characters from CARS is Luigi, voiced by Tony Shalhoub.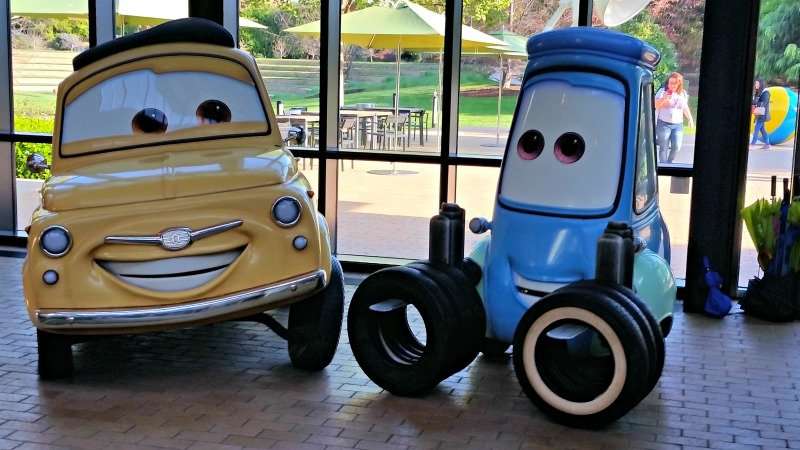 On my recent trip to Pixar for the INCREDIBLES 2 event, I took this picture of Luigi and Guido who were waiting to greet me when I got there. See how happy they are to see me?! They know I love them.
See Luigi's Casa Della Tires in the background there in Cars Land? That's what inspired this week's post! I've got a printable Luigi's Casa Della Tires sign for you and a cupcake recipe that we topped with spare tires…mini donuts.
Luigi's Casa Della Tires Printable
Click on the link below this to get a full-sized page to print.
The best chocolate cupcakes ever
[bctt tweet="Are you craving chocolate? These are literally the best cupcakes ever! Get the #recipe today! " username="christy41970″]
You can always just stack mini chocolate donuts if you don't have time to make cupcakes, but I will tell you now, these cupcakes are the BEST chocolate cupcakes I've ever had. Like always, Molly made them. We took them to our Memorial Day celebrations, and everyone raved over them. Her friends have already established that she uses magic when she bakes. Trust me. These do taste magical, so if you have the time, make some!
Best Ever Chocolate Cupcakes
These chocolate cupcakes are SO good. Sure, you can buy a mix, but why would you! Make these instead!
Ingredients
3

T.

coconut oil

1/2

c.

butter

1/2

c.

semi-sweet chocolate chips

1

c.

sugar

2

eggs plus 1 egg yolk

1

t.

vanilla

3/4

c.

plus 2 T. flour

1/2

t.

baking soda

1

t.

baking powder

1/2

t.

salt

1/2

c.

cocoa powder

unsweetened

1/2

c.

sour cream

not light or fat free

1/2

c.

hot water
Instructions
Preheat oven to 350 degrees

Line cupcake tin with liners and lightly spray with baking spray

Melt coconut oil, butter and chocolate chips over low heat

Combine flour, baking soda, baking powder, cocoa powder, and salt

In a separate bowl, stir together eggs, yolk, sugar and vanilla

Add the melted chocolate mixture to the egg and sugar mixture

Add half of the flour mixture

Add 1/4 c. sour cream

Stir lightly

Add the other half of the flour mixture

Add 1/4 c. sour cream

Stir lightly

Add hot water and stir quickly

Don't overmix

Pour into prepared cupcake liners

Bake for 16-18 minutes

Cool and frost with your favorite buttercream frosting

Top with a mini chocolate donut
More Cars fun
Don't forget to head over to Life, Family, Joy for a CARS Tic-Tac-Toe game! They Call Me T has Disney's CARS Disney Bounding Outfits that you're going to love! If you are heading to Pixar Fest, these would be great outfit choices to take along!
Pin Me
Incredibles 2
The newest Disney Pixar movie is coming up quickly! INCREDIBLES 2 hits theatres June 15!
Follow
Like INCREDIBLES 2 on Facebook: https://www.facebook.com/PixarTheIncredibles/
Follow INCREDIBLES 2 on Twitter: https://twitter.com/TheIncredibles
Follow INCREDIBLES 2 on Instagram: https://www.instagram.com/theincredibles/
Visit the official INCREDIBLES 2 website here: http://disney.com/incredibles2
INCREDIBLES 2 opens in theatres everywhere on June 15th!
#Incredibles2