We've reached week eight in our Pixar Fest Celebration! Time is flying, but you've still got time to get to Pixar Fest in Disneyland and Disney California Adventure Park. It ends September 3, 2018, so hurry! This week's movie is RATATOUILLE! It'll come as no surprise to you that you can get some ratatouille at Pixar Fest!
"RATATOUILLE" IN NEW ORLEANS SQUARE
This three-course dinner is inspired by the little chef, Remy, and is served at Café Orleans. The dinner features a charcuterie plate starter. It's followed by this Ratatouille a Confit Byaldi Shrimp dish entrée, and it ends with berry and cheese beignets served a la mode. YUM!
As much as I'd love this dish, I'm not sure everyone in my family would agree. Real ratatouille is a vegetable dish consisting of onions, zucchini, tomatoes, eggplant, and peppers, fried and stewed in oil and sometimes served cold. Yeah, my kids would not eat that.
So instead of replicating this dish, I made a baked apple "ratatouille."
Ratatouille
In one of Paris' finest restaurants, Remy, a determined young rat, dreams of becoming a renowned French chef. Torn between his family's wishes and his true calling, Remy and his pal Linguini set in motion a hilarious chain of events that turns the City of Lights upside down. RATATOUILLE is a treat you'll want to enjoy again and again.
Visiting Pixar Animation Studios
When I visited the Pixar Animation Studios, one of the things I loved was these little hidden gems. I think this is part of a scavenger hunt they've got for kids who visit because I did see other little hidden things around the building. I want to go back and do the scavenger hunt! Remy was hiding above this thermostat. Isn't he cute?
Easy Baked Apple Ratatouille
This recipe is super easy and super tasty! The next time I make it, I'm going to use either more apples or a smaller dish. This turned out well, but I think it would look prettier if the apples had been packed a little bit tighter.
For this easy baked apple ratatouille, squeeze the juice of 1/4 a lemon into a large bowl and mix in 1/3 cup of granulated sugar. Slice 3-4 green apples and 3-4 red apples thinly. Toss them in the lemon and sugar mixture. Line them up red, green, red, green, etc. in a greased round or oval casserole dish until the dish is full. Bake them in a preheated 375 degree oven and bake for 25 minutes. Sprinkle with cinnamon and sugar and serve warm.
More Ratatouille Fun
My easy baked apple ratatouille would make a great dessert after you eat this RATATOUILLE inspired pizza from Life, Family, Joy. And if you're heading to Pixar Fest soon, you'll want to wear one of these Disney Bounding outfits from They Call Me T.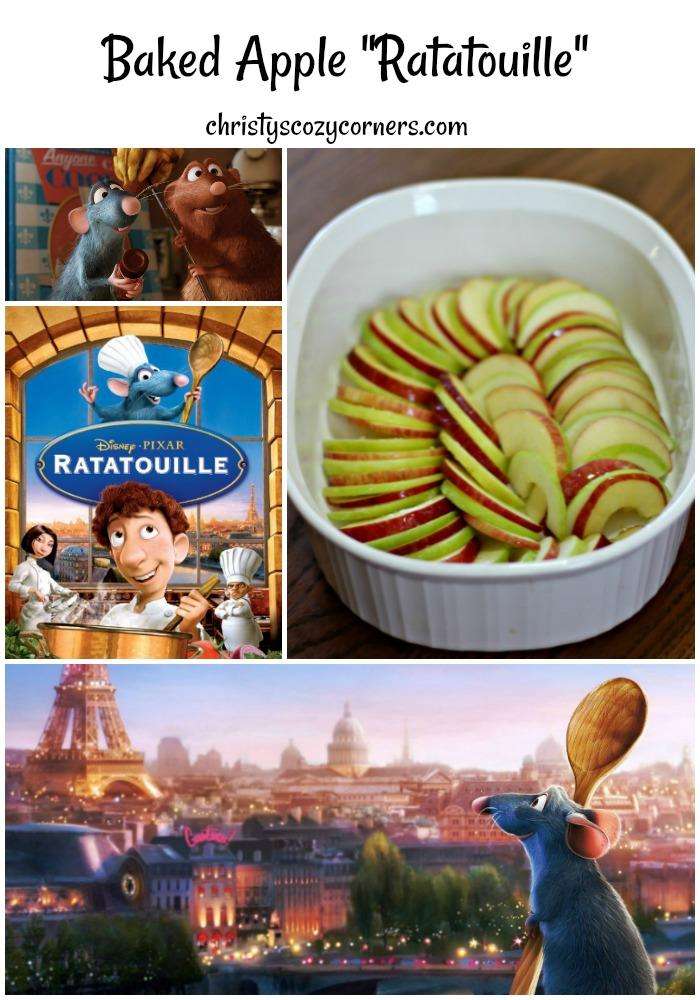 The newest Pixar movie is coming soon!
Don't forget to grab your INCREDIBLES 2 tickets now! In less than 2 weeks, the wait will be over!
Visit the official INCREDIBLES 2 website here:  http://disney.com/incredibles2
Facebook: https://www.facebook.com/PixarTheIncredibles/
Twitter: https://twitter.com/TheIncredibles
Instagram: https://www.instagram.com/theincredibles/