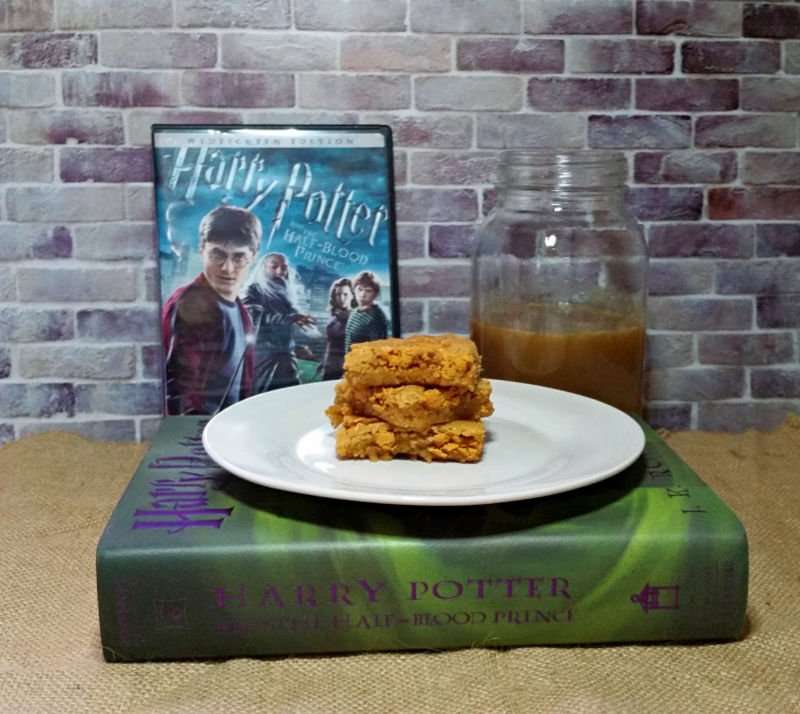 Good news! Tickets for FANTASTIC BEASTS: THE CRIMES OF GRINDELWALD are finally on sale! The movie opens in theatres November 16, and I can't wait! We've been counting down the weeks with fun Harry Potter related recipes and crafts. This week I've got a Butterbeer Blondies recipe with some homemade butterscotch sauce that is delicious! Life, Family, Joy is sharing a Pumpkin Danish recipe. They Call Me T made Harry Potter Truffles. That's lots of sweets and treats to keep you going!
Butterbeer Blondies
We all know how important Butterbeer is in Harry Potter. I mean, every time they go to Hogsmeade, someone is drinking it! And since it's so delicious, why not make ALL the butterbeer flavored treats? These butterbeer blondies would go great with the butterbeer ice cream I made a couple of weeks ago! Then you can pour this homemade sauce all over everything. Okay, now I'm hungry. You will be too!
This blondies recipe is based off of a blonde brownies recipe I've already shared, so you can get the basic recipe from that post. Instead of chocolate chips, though, you want to use butterscotch chips. That gives them that butterbeer flavor. Topping them with the sauce does too.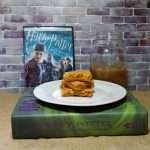 Butterscotch Sauce
Top your Butterbeer Blondies with this homemade butterscotch sauce for an extra delicious treat.
Ingredients
1

cup

light brown sugar

firmly packed

2/3

cup

light corn syrup

1/4

cup

butter

2/3

cup

evaporated milk

1/8

tsp

baking soda

1

tsp

vanilla
Instructions
Combine brown sugar, corn syrup, and butter in a medium saucepan.

Cook over medium heat, stirring constantly until sugar is completely dissolved and the mixture comes to a full rolling boil.

Allow the mixture to boil, without stirring, for exactly 1 minute.

Remove from heat and let stand for 5 minutes.

Combine evaporated milk, baking soda, and vanilla in a bowl.

Stir into slightly cooled sauce.

Pour into a jar, cover, and refrigerate.
Harry Potter and The Half-Blood Prince
The war against Voldemort is not going well; even the Muggles have been affected. Dumbledore is absent from Hogwarts for long stretches of time, and the Order of the Phoenix has already suffered losses.
And yet . . . as with all wars, life goes on. Sixth-year students learn to Apparate. Teenagers flirt and fight and fall in love. Harry receives some extraordinary help in Potions from the mysterious Half-Blood Prince. And with Dumbledore's guidance, he seeks out the full, complex story of the boy who became Lord Voldemort — and thus finds what may be his only vulnerability.
Fantastic Beasts: The Crimes of Grindelwald
Follow the movie
FANTASTIC BEASTS: THE CRIMES OF GRINDELWALD hits theatres November 16, 2018
#FantasticBeasts